Communities N-Z
COLORADO COUNTY, TEXAS
Do you have old photographs you would like to share?
New Bielau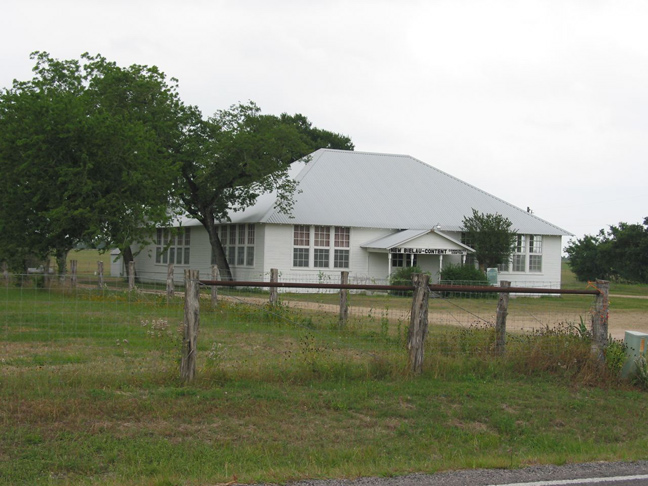 New Bielau/Content in the Colorado County Sesquicentennial Commemorative Book
New Bielau Trinity Lutheran Cemetery
Trinity Evangelical Lutheran Church Historical Marker
See New Bielau at the Handbook of Texas Online

New Bielau at TexasEscapes.com
COMMUNITY COUNCIL, OF DEFENSE ORGANIZED AT NEW BIELAU FRIDAY NIGHT

A meeting was held by the citizens of the New Bielau school district last Friday night for the purpose of organizing a Community Council of Defense. Due to the heavy rain the night before the attendance was not as large and the speaker expected to be present also failed us on account of bad roads. Chairman Otto Leppin called the meeting and appointed the following officers: C. A. Grobe, vice-chairman; Henry W. Hasse, secretary and treasurer. Committee Chairmen: Liberty Bonds, Ad. Michalke, Aug. Dahse, J. F. W. Koehn, C. F. Hoegemeyer, P. G. Ranft, J. H. Nessels. Thrift and War Savings Stamps, Gus Dahse and Will Dahse. Red Cross Activities, Mrs. Ad. Michalke, Mrs. P. G. Ranft, Mrs. Chas. Hollien, Mrs. Henry W. Hasse, Mrs. C. A. Grobe, Misses Louise Hasse and Clara Schroeder. Membership Solicitors, Chas. Hollien, C. W. Hoegemeyer, Henry Rathke, Henry W. Hasse. ThIrty-two persons signed the membership roll, and those not present that night are expected to enroll as soon as possible. Look up the membership solicitors and have your name placed on the list. Another meeting is to be held one night this week, when one or two speakers will be on hand. Every person in the district is then expected to be present Otto Leppin, Chairman; Henry W. Hasse, secretary-treasurer.

NEW BIELAU COUNCIL OF DEFENSE MEETING FRIDAY NIGHT

There will be a special meeting to perfect organization and transact important business, of the New Bielau Community Council of Defense, at the Casino Hall at that place on Friday night. Let every loyal, patriotc[sic] citizen of the New Bielau school district be on hand. Otto Leppin, Chr.

Weimar Mercury, September 27, 1918, page 1
See Oak Grove, Texas at the Handbook of Texas Online
Miscellaneous Oak Grove News Items
OAK GROVE ITEMS

A new fence has been put up around the Millers' Creek cemetery and a great deal of other work done which adds to the looks considerably.

Weimar Mercury, May 8, 1914, page 3

OAK GROVE ITEMS

Mr. and Mrs. Urban McMillan and baby spent last week in your city, where Urban went to be under treatment of the doctor.

Weimar Mercury, March 1, 1918

OAK GROVE ITEMS

Quite a change will take place in the Oak Grove neighborhood this week, when Hy. Scheller and family will move up to Osage, where they have bought a place, and Tom McMillan and family, together with his son, Urban, and his family will leave for their new home down near El Campo. Mr. Barton and his family of the Borden section will move on the McMillan place. While we hate to lose these good people we are glad to welcome Mr. Barton and family here, and wish the others all kinds of luck in their new homes.

Weimar Mercury, December 6, 1918

LIVE OAK-OAK GROVE COUNCIL OF DEFENSE

A Community Council of Defense was organized at Live Oak-Oak Grove Monday night, Sept. 9. Chairman J. W. Wagley addressed the crowd in a splendid speech in the interest of the organization of a Community Council of Defense. At the conclusion of his remarks . the following officers were appointed by the chairman: R. B. Miles, vice-chairman, W. A. Rodgers secretary. It was decided that the officers and heads of various committees constitute a War Board. Heads of committees were appointed as follows: Liberty Bonds, Geo. Miller; Thrift Stamps, Newt Williams; Publicity, Oscar Sanders; Food Production and conservation, Frank Sanders; Red Cross Work, Mrs. Oscar Sanders. Chairman of each committee to select his or her own assistants. QuIte a number signed the membership roll. Every "man, woman and child of accountable age is expected to enroll, and if you have not done so you have not done your duty. Do not wait to be solicited as a member, but hunt up the secretary and sigh the membership roll at once.
Chairman Publicity Committee

Weimar Mercury, September 27, 1919, page 1

OAK GROVE ITEMS
Move on Foot to Fence Miller Creek Cemetery

There was a meeting at the Millers' Creek Cemetery Monday afternoon for the purpose of raising money enough to put a new fence around it, as the old fence is about played out. Not many were present, but we hope that each and everyone will come forward with their dollar.

Weimar Mercury, January 23, 1920, page 7

Oak Grove Meeting Aims At Organizing Community Center

Residents of the Oak Grove area are invited to attend a meeting this Sunday, May 29, at the Oak Grove School, where plans are to form a community organization similar to the one at New Bielau.
If plans work out, the schoolhouse would become Oak Grove Community Center, available for meetings and socials of organizations as well as private gatherings and governed by an elected board of directors.

Weimar Mercury, May 27, 1960, page 1.
Osage
From the Handbook of Texas Online:
OSAGE, TEXAS (Colorado County).
Osage is on the north and middle forks of Harvey Creek, four miles northeast of Weimar in northwest Colorado County. Much of the land was originally included in grants to Henry Austin, a cousin of Stephen F. Austin. Settlement along Harvey Creek began in 1851 with the arrival of the Tom Hubbard family from Mississippi. In 1855 they were joined by a thirty-six-wagon caravan that brought many other families of Scottish, English, and Irish extraction from the Laurel, Mississippi, area. In 1856, after the first homes were built and the first crops harvested, Dr. Samuel D. McLeary named the new community Osage, for the luxuriant growth of bois d'arc, or osage orange, trees in the area.
During the Civil War Osage and other communities along Harvey Creek furnished most of the men and horses for Company A, Fifth Texas Cavalry, Confederate States of America. A Confederate post office was established in 1862, and the community had several stores, a blacksmith shop, a gin, and many substantial homes. Osage was the site of a school established by E. B. Carruth in 1874. A student later praised the school's curriculum as "the best selected of any I have ever known. It included Webster's Blue Back Spelling Book, all of the McGuffey Readers, history, geography, grammer, rhetoric, elementary and higher mathematics and Latin." Students came from a 100-mile radius and boarded with families in the area.
In 1873 when the Galveston, Harrisburg and San Antonio Railway built west from Columbus, Weimar was founded about four miles southwest of Osage, and business moved to the railroad. By 1900 all business was gone. As of the mid-1980s Osage consisted of many small farms and grazing operations and the homes of a few people who worked in town but preferred rural living.
Jeff Carroll, "OSAGE, TX (COLORADO COUNTY)," Handbook of Texas Online (http://www.tshaonline.org/handbook/online/articles/hvo37)
BIBLIOGRAPHY:
Colorado County Sesquicentennial Commemorative Book (La Grange, Texas: Hengst Printing, 1986). Mary Hinton, Weimar, Texas: First 100 Years, 1873–1973 (Austin: Von Boeckmann-Jones, 1973).
Jeff Carroll
Osage in the Colorado County Sesquicentennial Commemorative Book
Dr. Sam B. McLeary on Major Carruth's Osage School
Osage at TexasEscapes.com
Peach Creek
Article at the Handbook of Texas Online
See Peach Creek
Provident City
Provident City in the Colorado County Sesquicentennial Commemorative Book
Provident City Historical Marker
See Provident City at the Handbook of Texas Online
Provident City at TexasEscapes.com
Provident City Cemetery in Lavaca County
Provident City video showing old hotel
Lee Kuykendall has been elected principal of the Provident City school at $140 per month. Miss LaNoe Miller, who is now completing sophomore work in the Southwest Texas Normal, has been employed as assistant teacher.--Halletsville New Era.

Provident City is a mighty small town over in the Sandies that believes in education, but a $140 a month superintendent could not be paid out of a 15-cent tax levy.—Schulenburg Sticker.

Weimar Mercury, July 11, 1919, page 2
Ramsey
Ramsey in the Colorado County Sesquicentennial Commemorative Book
See Ramsey at the Handbook of Texas Online
Rocky Hill
See Rocky Hill at the Handbook of Texas Online
Santa Anna
Santa Anna in the Colorado County Sesquicentennial Commemorative Book
Shaws Bend
Shaws Bend in the Colorado County Sesquicentennial Commemorative Book
Getting Started In Cowboy Action Shooting
Article at the Handbook of Texas Online
See Shaws Bend
Columbus Citizen: A new postoffice has been established at Shaw's Bend, in this county, called Hildebrand, C. Hildebrand postmaster. Mail twice a week. The new postoffice willbe quite an accommodation to a numvber of our citizens.
Weimar Mercury, Novembe 11, 1893
Sheridan
Sheridan in the Colorado County Sesquicentennial Commemorative Book
Take a look at Sheridan, Texas at TexasEscapes.com
Article at the Handbook of Texas Online
See Sheridan
The good people of Cheetham met at the cemetery one day the past week and put it in an excellent condition by removing all grass and fallen leaves and by making a new mound over each grave. It was a good deed, friends and an act of love and respect for the dead that should be emulated by some other communitities.

Weimar Mercury, June 20, 1903, page 5

On account of the severe cold weather, Miss Selma Strunk is conducting school in her room at the Sheridan home, on account of the school house being in such a deplorable condition. This is a confesion we regret to make, but we promised to tell the truth as near as possible in our writings.
The Hunter, M. D.

Weimar Mercury, January 15, 1909, page 8

That our little village was on last Wednesday afternoon visited by two of the most destructive storms in its history is admitted by everyone, including the oldest inhabitant. The first came from a point a little east of north, and was blowing a stiff breeze at noon, increasing in velocity until shortly after 6 o'clock when it was blowing a hurricane, accompanied by torrents of rain, which, being blown by the wind, drifted in almost solid sheets of water. It was known by all that every puff of wind was wreaking vengeance on property and placing lives in danger, but owing to the fact that the air was full of flying debris and drifting sheets of rain, it would have been madness to venture out into the storm, as the danger of being killed or drowned was very great.

Shortly before 7 o'clock the wind and rain ceased and a rush was made to see if anyone had been killed or injured, and to see what damage had resulted from the storm.

It was soon learned that no one had been injured, but our little village presented a scene never before witnessed in its history. Mrs. M. A. Brown's residence was blown from the blocks and partially demolished, breaking almost everything in it that could be broken. Her crib and shed, recently erected, were torn apart and strewn in all directions. F. C. Renfro's residence was blown from the blocks as was also houses, occupied by John Gentry and Robert Powell, the last mentioned having a front gallery completely torn away. M. J. Sevier also had a shed room and gallery torn from his residence. Rent houses belonging to Mrs. S. E. Warner and C. S. Woodward were also blown down. A sheet of tin roofing was blown from Will Scott's buggy shed about 200 yards to a house occupied by J. W. Sherley, striking a window and tearing out both top and bottom sash.

Scarcely had the spectators finished viewing the wrecks before the storm in all its fury was upon them again, this time from the southeast. This time it was even harder than the first. The rain came in a deluge, and as the wind increased in velocity as the night came on, it was thought by many that Sheridan would be literally wiped off the map before morning. But a kind Providence willed otherwise, and as during the preceding storm, not a person was injured. The wind calmed to a gentle breeze about 11 o'clock, but the rain continued without cessation until almost daylight.

As soon as it became light enough to see, parties were again out, only to find that the storm had again claimed toll in property, this time Mr. and Mrs. McNatt, an aged couple in the east part of town, being the heaviest losers, as their house was blown from the blocks and damaged to that extent that it will most likely have to be rebuilt. Mrs. S. E. Warner's residence and store combined was also blown from the blocks, while the second wind completed what the first had started by blowing M. J. Sevier's house from the blocks. Scarcely a shade tree was left standing. The windmill at V. W. Plummer's hotel was also blown down. Reports from the country are to the effect that Luke Edd's house had been unroofed, and houses occupied by Jule Brisco and Wm. Townsend were also blown from the blocks, while almost half the timber was blown down. The storm, while severe, could have been much worse,and everyone is rejoicing that no one was hurt.

Carpenters are at work on Mrs. Brown's residence and same will be raised and repaired immediately.

Weimar Mercury, September 30, 1909, page 8

Receives Check of $1,000.

A check for $1,000 payable to Mrs. Francis Varner, insurance on the policy of her husband, J. G. Varner who died some time since, was received this week by Camp Clerk Charles Pillar of the local Woodmen of the World, and after proper action by the Woodmen Order was paid to Mrs. Varner.—Hallettsville Herald

Weimar Mercury, July 8, 1914, page 3
Speaksville
Vox Populi
Vox Populi in the Colorado County Sesquicentennial Commemorative Book
Articles at the Handbook of Texas Online

Zimmerscheidt
Zimmerscheidt-Leyendecker Cemetery
Articles at the Handbook of Texas Online