Osage
School will close here with a basket picnic on Harvey creek Friday, March 10. Everyone is invited to be present.
Weimar Mercury, March 17, 1911
SCHOOL TRUSTEE ELECTION AT OSAGE SATURDAY
Election of two school trustees was held at Osage last Saturday. There were four candidates in the field, and much interest was manifested throughout the day. There was a total of 66 votes cast, so we are informed, the largest number probably ever polled at a similar election in that community. The result was as follows: Chas. Goode, 47 votes; Tom Taylor, 44; Emil Skrovan, 22; Ed Helmcamp, 19. Messrs. Goode and Taylor have served as trustees out there for a number of years.
Weimar Mercury, April 13, 1923, page 5
HURRAH FOR OSAGE SCHOOL DISTRICT NUMBER 16!
The voters of the Osage district last Saturday voted upon the proposition to issue $3500 bonds for the purpose of building a new and commodious school building, and as we predicted recently, they carried the proposition almost unanimously. The vote resulted as follows: For the proposition, 53; against the proposition, 9.
We are mighty proud of these good folks. We have noted in past years that they favored better schools, and when this proposition was put forth we had no hesitancy in predicting it would be carried by a large majority.
Now that it is settled it is likely the bonds will be issued at an early date, and work upon the new structure will be commenced in ample time for completion before the fall term of school is started.
Weimar Mercury, May 14, 1926, page 1
The Osage School—A Good School Always
A Mercury reporter, in his meanderings around the country Friday afternoon of last week, chanced to pass the new Osage School and couldn't resist the temptation to drop in and visit briefly with the able and efficient teachers of said institution of learning, Mrs. H. B. Hopper and Mrs. George Goode, both of whom have been in charge of said school since 1925, reelected term after term, proving that they have given splendid satisfaction to, trustees, pupils and the public in general. And truly they are good teachers. In all the years they have been engaged in teaching said school they have not been tardy nor have they missed a day from the job. A remarkable record! Both are accomplished teachers. They are always striving to further perfect themselves for their work, and yearly attend some teachers' college for said purpose.
That they take a great deal of interest in their work is manifest on every hand. The school rooms are a model of neatness and taste. Decorations and equipment about the school roam are of a character that will edify and improve the mind of the pupil. There is an air of cheerfulness and. comfort about the Osage school that you rarely see elsewhere. The children appeared very much Interested In their work, and happy at it. And they should be happy, for trustees and teachers have provided every possible equipment for their comfort arid welfare in both school room and school grounds. On the latter are many devices for the pleasure and physical well being of the children, and that they make good use of same was manifest while we were present. Swings, merry-go-rounds, etc., are put into use as soon as the recess period is at hand, and in this way the physical wants of the children are looked after as well as the educational.
Then, too, these two good teachers have from time to time taken their little charges to Houston, Austin, and other points of interest on week ends, and travel and observation has helped the youngsters realize what a big old world we live in.
Enrollment at this school for the past thirteen years has ranged from thirty to forty-five pupils, and the school teaches eight grades. From time to time the trustees and teachers have arranged various affairs to evoke interest and raise funds for the aid of the school. Patrons of the school have always shown a most whole-hearted interest and co-operation in affairs of the school, which is always necessary for any school to be a success.
The present term has been a most pleasant and profitable one, On Oct. 3 there was held at the Osage school a county-wide teachers' meeting. Later several dances, a Christmas program and an old-fashioned party were staged. The annual closing picnic of this school is a looked for event and will be participated in by many people of this section.
It was in 1925 that Mrs. Hopper and Mrs. Goode were first elected as teachers of this school. At that time the old building had become very dilapidated, and a movement was started toward getting a new building. A bond issue was voted in the summer of 1926, and the present location chosen so as to be nearer the center of population of the school district. The trustee at that time were Chas. Kahlden, Ed Helmcamp and Emil Skrovan. The building was completed in the Fall of 1926. The grounds contain four acres, purchased from Chas. Moore.
While chatting with Mesdames Hopper and Goode the subject of previous schools in the Osage community came up, and Mrs. Hopper and Mrs. Goode, through interviews with a few of the older ones still living in that community, secured the following information:
The first school at Osage was attended by the late Drake Moore. This school was a one-room log cabin, with dirt floor and the cracks were chinked with mud. A huge fireplace extending across one end of the building was used to furnish heat for the pupils and teachers. Desks and seats were made of split logs. Mrs. Sam D. McLeary was the first teacher of the Osage school.
The drinking water for the school came from a spring on the grounds a short distance from the building. The water near the spring was used to cool the bottles of milk that each child brought as a part of his or her lunch. Often the boys, in going for water. would drink the other fellows milk. then the cornbread was hard to swallow without the "chaser". The chief athletic sport indulged in was fighting, and many a boy went home with a bloody nose.
Major Carruth's school has already been described. This school was located just west of the Osage Cemetery. Prof. McNeil followed Major Carruth, and there possibly were others whose names we failed to learn.
The school was moved to the Campbell farm across the road from the Chas. Moore place, because a majority of the children at that time lived in this community. After this school was moved to the new location the teachers were as follows, in order mentioned: Miss Fannie Coble, followed by Graham McNeil, Lenna Lockett, Jim Taylor, Jimmie Chapman, Frankie Dick, Beatrice Obenhaus, Leona Insall, Willie Black, Mattie Garrett, Mrs. Ed Rudicil and daughter, Hattie Homala[sic], Ruth Truxton, Gertrude Johnson, Maria Watson, Ruth Morgan, Ruby Harris, Jean Abbott, Ethel Chapman, Mahala Hall and Corinne Blackburn.
Osage has always had a school despite the many changes brought about by time and circumstances and we predict it will always have!
Weimar Mercury, April 1, 1938, pages 1 and 8
Wildwood, Osage Annexation Vote Set for June 4
Last of the annexation election will be held here Friday, June 4 when voters of Weimar, Wildwood and Osage districts go the polls and indicate whether they favor annexing the Wildwood and Osage district to Weimar.
Eligible to vote will be all resident living within the boundaries of these three districts, who have paid their poll taxes, are of voting age, and are qualified as citizens. It should be pointed out that you do not reed to have paid a property tax, and that wives and children of voting age an eligible to vote.
Voting boxes will be set up at the Weimar City Hall, Wildwood School, and Osage School, with residents of the respective districts voting in their own district.
In an advertisement elsewhere in this issue, the Weimar School Board makes some statements which merit the thoughtful consideration of all voters. To the residents of these three districts, the Board says: "We have ONE community (and a good one) let's have ONE public school system for that community (and make it a good one). We can accomplish this by approving the annexation of the Wildwood and Osage districts to the Weimar Independent District, which is the final move in a program for unifying the school facilities of this community."
Eligible to vote in Weimar, in addition to residents of the "old" Weimar district, are those of the former Oak Grove, New Bielau, St. Paul, New Brunn, Oakland, County Line, Harmony, Borden, Live Oak, Bois d'Arc districts, all of which have been annexed to the Weimar district and are now a part of it in school matters.
Weimar Mercury, May 28, 1948, page 1
Wildwood and Osage Annexed, 223 to 40
Carrying by more than 30 to 1 at the Weimar box while losing 10 to I in the other two boxes combined, the grand total in last Friday's annexation election was: For annexation, 223; against annexation, 40
Thus Wildwood and Osage districts became the eleventh and twelfth to join the Weimar Independent School District, ending a series of elections pointed toward making one good community school for Weimar and all the outlying small settlements. All will come in to the Weimar school by bus now, with the exception of one or two elementary schools that will continue where they are.
In Weimar Friday the vote was 217 for and 7 against. In Wildwood, it was 3 for and 27 against. And in Osage it was 3 for and 13 against.
Weimar Mercury, June 11, 1948, page 1
Hot Lunches—Comin' Right Up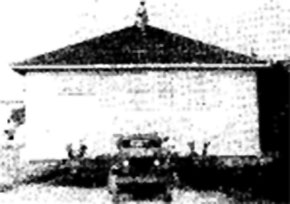 WASN'T SATURDAY, but this country schoolhouse came to town a few days go. It's the former Osage School, which has been vacant since Weimar Independent School District annexed it two or three years ago. Moved into town on this truck, it was placed on a prepared concrete foundation at the northeast corner of the gym and will be remodeled into a cafeteria before school begins in September. Men on roof in picture above are waiting to lift wires along the route through town. Mercury Photo.
Weimar Mercury, June 30, 1950, page 1