Columbus
COLORADO COUNTY, TEXAS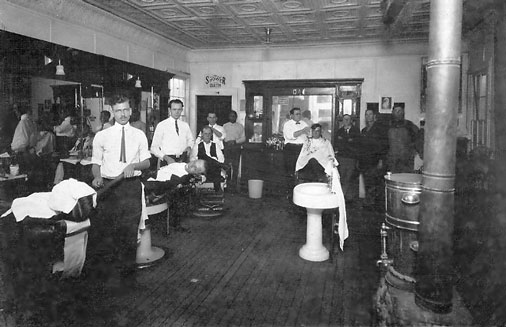 Emil Joseph Burger's Barber Shop, ca early 1920s
Emil Joseph Burger is the heavy gentleman in the center back. The bar and mirror in the back is now in the Stafford building. The bar was built by a Mr. Matzske, probably Edward.
Do you have old photographs you would like to share?
Related Links
Official City of Columbus, Texas
Columbus, Texas at TexasEscapes.com
includes views of the Colorado County Courthouse, Stafford Opera House, and the water tower that became a museum.
Columbus in the Colorado County Sesquicentennial Commemorative Book
Columbus Church Records Online at the Nesbitt Memorial Library Site
Nesbitt Library Photo Collection
1884 images of Columbus, the courthouse through the years, the court oak, etc.
It Was in the News
Miscellaneous items from area newspapers
Columbus Schools
Online Archives of The Colorado County Citizen, 1857-1980
courtesy of the Nesbitt Memorial Library
The Colorado County Citizen
Recent issues
Articles at the Handbook of Texas Online