Colorado County Unidentified Photos
Do you have photographs you would like to have identified?
Is the older gentleman in this picture Mr.Luedecke?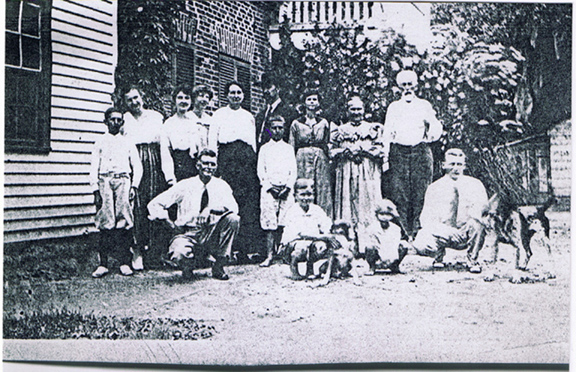 Hastedt Family ca 1917
Standing left to right are Johnny Hastedt, Hattie Hastedt Smalley, Winnie Hastedt Miller, unknown woman, emma Hahn Hastedt, John Hastedt, unknown woman, possibly Rosina Zajicek Hastedt Luedecke, Possibly Mr. Luedecke. Squatting in front are Leo Miller, two unidentified children, and Fritz Hastedt. Please contact the county coordinator if you know who this Mr. Luedecke might be.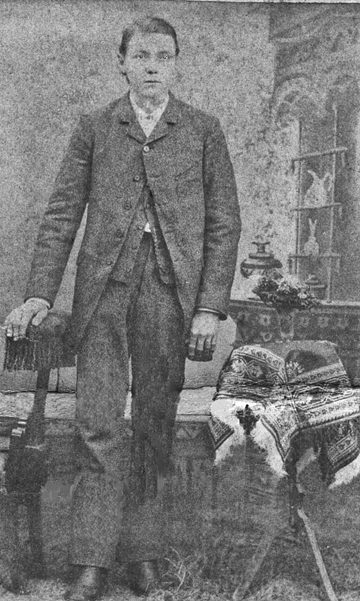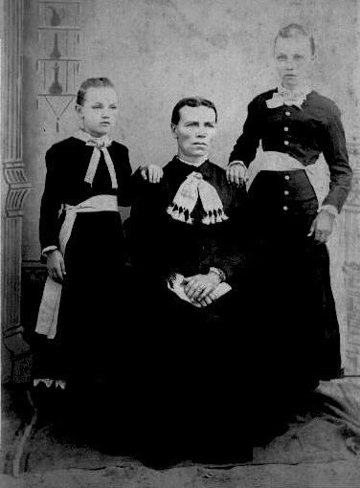 As the top photo suggests, these two photographs were taken by F. Schlange & Co of Frelsburg. Pat Hejl is the owners of them and would like your help in identifying those pictured. [The bottom photo has recently been identified as Franziska Zeiner Brokemeyer and her two granddaughters.]
You may contact either Pat or the county coordinator.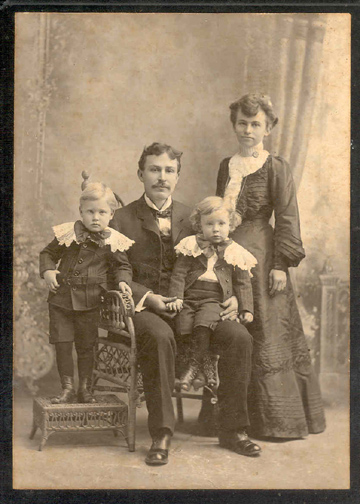 Following is the note received with this photo:
I have a photograph that can be posted and I am attaching it here. Hopefully, someone can figure out just who it is. This photo was scanned by me from a collection handed down from my grandparents, Eric and Clara Insall, to my cousin Jean Insall Keller. The back of the photo says Mary Ann and husband Morrison. Mary Ann Insall, daughter of Joseph Gansey Insall and Penninah Sanders was born in Colorado County. She married Teague David Morrison. Many of the descendants of Teague and Mary Ann say this is not a picture of Mary Ann and Teague Morrison so now we do not know who it really is. One of my grandparents or someone in the family wrote that on the photo. Maybe it can be posted in the unknown photographs and someone will recognize it. Mary Beth Marchant
If you can help Mary Beth out please contact her by clicking on her name.
Are these members of the Faber family?
Do any of these faces look familiar to you? Are there copies of these photos in among your photos?

These are from the files of Alice Denson who believes them to be Faber kin or friends.

Please contact either Alice or Dorothy if you have any information about any of them.

Here is another unidentified photo that is Faber related. It was found along with a photo of Ernst August William Frederick Faber by Ernest Mae Seaholm.
Do you have unidentified photographs which you would like to share? If so, contact the volunteer county coordinator.