Lamkin, Clyde E.
Final Rites For Clyde Lamkin, 76, Thursday
Funeral services for Clyde Lamkin, 76, were held Thursday afternoon, March 17, at Hubbard Funeral Home, with burial in the Masonic Cemetery.
Rev. Lee A. Nelson, pastor of the Baptist Church in Glidden, officiated.
Mr. Lamkin died Tuesday afternoon, March 15, in Youens Hospital here.
Born Nov. 16, 1889, near Weimar, he was a son of Anderson and Ella Henderson Lamkin. He married Miss Mady Lee on Nov. 5, 1913, and they settled near Weimar. Later they moved near Glidden, where they had lived since.
Mr. Lamkin is survived by his wife; three grandchildren; Mrs. Barbara Taylor, Peggy and Bradford Lamkin and two great-grandchildren, Karen and Terri Taylor, all of Weimar five brothers, Ernest and Alva of Houston, Charles and Murray of El Campo and Louis of San Antonio; and three sisters, Mrs. Stella Martens of Alice, Mrs. Ella Thumann of Weimar and Mrs. Hans German of Eagle Lake. His son, Elmo, preceded him in death on Sept. 6, 1963.
Pallbearers were Wilbur Sanders, Edmund Strobel, Jack Cernosek, Owen Miller, Henry Reimers and Howard Besch.
Weimar Mercury, March 24, 1966, pages 1 and 10
Lamkin, Ella N. (Henderson)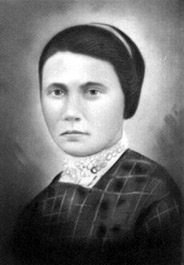 Mrs. J. A. Lamkins, a very kind and estimable lady, died last Friday at 12 o'clock noon, near this place, after a protracted illness, of lung affection, and was buried at the old Clear Creek cemetery last Saturday by a number of sorrowing relatives and friends. Our condolences are extended to the family.
Colorado Citizen, Oct 26, 1891
Photo and obit submitted by Ernest Mae Seaholm
OAKLAND REMARKS
Mrs. Anderson Lampkin[sic], nee Henderson, died of consmption, after a long and painful illness, at her home, some four miles east of here, last Friday, the 16th instant, and was buried at the old Clear Creek grave yard last Saturday.
Weimar Mercury, Oct 24, 1891
Lamkin, Elmo C. "Sunny"
Funeral Services For Elmo Lamkin, 46, Held Sunday
Funeral services for Elmo C. ("Sunny") Lamkin, 46, were held Sunday afternoon, Sept. 8, at Hubbard Funeral Home, with burial in the Masonic Cemetery. Br. Lipscomb, pastor of the Church of Christ at Columbus, where Mr. Lamkin was a member, officiated.
A lifelong resident of this area, Mr. Lamkin died early Friday morning, Sept. 6, at Youens Hospital of lung Cancer. He had been ill since May 15 this year and had spent several months in Southern Pacific Hospital, returning to the Weimar hospital just the Monday before his death.
Born near Weimar July 17, 1917, he was the only child of Mr. and Mrs. Clyde Lamkin. He married Miss Gladys Rodgers here Aug. 15, 1940. He was an employee of Southern Pacific Railroad and a rancher. A World War II veteran, he was in the Asiatic-Pacific Campaign, serving in Japan and was discharged in 1946 as a staff sergeant.
Surviving are his widow, Mrs. Gladys Lamkin of Weimar; two daughters, Mrs. Thomas Joe (Barbara Ann) Taylor of Eagle Lake and Peggy Ann Lamkin of Weimar; one son, Bradford Clyde Lamkin, of Weimar; one granddaughter, Karen Ann Taylor, Eagle Lake; and his parents, Mr. and Mrs. Clyde Lamkin, Weimar.
Pallbearers were J. T. Johnston, Howard Beach and Howard Chollett of Glidden, Julius Ernie and Wilbur Sanders of Weimar and Addie Bittner of El Campo.
Weimar Mercury, September 12, 1963
Transcribed by Jennie Muggli
Lamkin, Ernest Anderson
Final Rites for Earnest Lamkin, 76, Wednesday
Funeral services for Earnest Anderson Lamkin, 76, of 8O6 Westford St., Houston,were held Wednesday afternoon, March 31 at Earthman's North Freeway Chapel, Houston.
Mr. Lamkin died Monday in Heights Hospital.
He was a former Weimar area resident. Born here Sept. 18, 1894, he was a son of John Anderson and Sara Frances Butler Lamkin.
Surviving are his wife, Eunice Latham Lamkin, and two daughters, Mrs. Harry (Edna Mae) Cort and Mrs. Earnestine Roeder, all, of Houston; three grandchildren; three brothers, Murray, of El. Campo, Louis of San Antonlo and Alva of Houston; and two sisters, Mrs. Hugo (Ellie) Thumann of Columbus and Mrs. Hans (Selma) German of Eagle Lake. A son, Everett, and a sister, Mrs. Stella Mertens, preceded him in death.
Weimar Mercury, April 1, 1971
Lamkin, John Anderson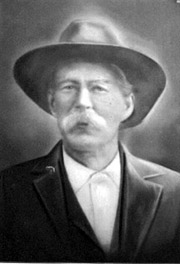 After an illness extending over many months, Mr. J. A. Lamkin, prominent farmer of the Harmony section, died Friday of last week, and the remains were laid to rest in the Clear Creek Cemetery, Saturday afternoon at 4 o';clock, Rev. J. Herrick Hall, local Baptist pastor, officiating. A large crowd of sympathizing friends was present to witness the last sad rites.
Mr. Lamkin was about 74 years of age. Up to a few years ago he was an active, vigorous man, but fell aprey to illness some time ago, since which time the decline in his physical condition was very noticeable. He was a man highly regarded throughout this section, and popular with all who knew him. He raised a large and interesting family of children, nearly all of whom are now grown and settled in life. His widow also survives. Mr. Lamkin had lived in this section for many years. He ever proved himself a good friend and neighbor, a devoted husband and father, and no man in his community stood any higher in the estimation of his fellowman. His death is deeply and sincerely deplored.
Our heartfelt sympathy goes out to his bereaved ones. [last one to be buried at Clear Creek]
Weimar Mercury, July 26, 1929
Photo and obit submitted by Ernest Mae Seaholm
Lamkin, John L.
J A Lamkin was a pleasant caller at the Mercury office the other day, and as an Item of news he told of the assassination of his aged father In Neshoba county, Mississippi, in April. The elder Lamkin, a man of 88 years was farming and running a store. Several times previously he had had parties to whom he had tendered change, grab all the money and run with same. Being an old man he was unable to pursue them, and they escaped. It finally came to him that the parties were young white men disguised as negroes, and he intended reporting them to the authorIties. Before he did so, however, the parties got wind of It and decided to both rob and k!II the old man, which they did, but as it happened they were observed by four negroes, who were sworn to secrecy on pain of death. These negroes were finally put under arrest by the sheriff, and Mr. Lamkin has been advised by the sheriff of the county that one of them confessed and told the names of the young white men who had committed the cowardly and brutal murder of the aged gentleman. The last letter Mr, Lamkin received from the sheriff stated that he would have the young men arrested n once. He has not heard from the officer since that time. The eider Lamkin had Intended before his death to wind up his affairs and the following July move to Texas and reside with hIs children, three sons, now living in this section of Texas. His sudden and unexpected death of course put an end to his plans. His death was certainly a most cowardly and brutal crime, and it is to be hoped that justice will be dealt out to his assassins
Weimar Mercury, August 20, 1904, page 4
Lamkin, Mady (Lee)
Funeral for Mrs. Lamkin Held
Funeral services for Mrs. Clyde (Mady) Lamkin, 86, a resident of Autumn Hills Convalescent Home at Columbus, were held Monday, Oct 4, from Hubbard Funeral Home here, with burial in Masonic Cemtery[sic]. The Rev. W. C. James officiated.
Mrs. Lamkin died at 8:10 pm. Oct. 2 in the convalescent home.
Born Feb. 1, 1890, in Lavaca County, she was a daughter of Isaac and Emile (Quals) Lee.
She was married to Mr. Lamkin on Nov. 5, 1913, and they settled near Weimar, later moving to Glidden. He died on March 15, 1966.
Mrs. Lamkin is survived by one sister, Mrs. Rosie Cejka of Columbus, three grandchildren, Mose Barbara Taylor, Mrs. Peggy Fenton and Brad Lamkin, and two great-grandchildren.
A son, Elmo C. Lamkin, died Sept 5, 1963. She was also preceded in death by three brothers, Henry Lee, Charlie Lee, and Hilliard Lee, and two sisters, Lillie McKey and Daisy Rutledge.
Pallbearers were Brad Lamkin, Ed Rabel, Gilbert Rodgers, Wilbur Sanders, Howard Chollett and Owen Miller.
Weimar Mercury, October 21, 1976
Lamkin, Sarah Frances (Butler) Bennett
Final Rites for Mrs. J. A. Lamkin Held at Live Oak
Funeral services for Mrs. J. A. Lamkin who died at the home of her son, Murra Lamkin, in El Campo, Tuesday, November 18, were held from the family residence at Live Oak Wednesday afternoon at 2: 15 o'clock, the Rev. Claude L. Boone, Baptist pastor officiating. Interment was made in the Live Oak Cemetery, Mrs. Lamkin was 72 years, 3 months, and ? days of age.
Mrs. Lamkin had been ill about a month members of the family said. She had spent about two weeks in the hospital at El Campo and the rest of the time at her son's home.
She was born August 14, 1869 in Caldwell County, the daughter of Mr. and Mrs. W. Butler. She had lived in Colorado county for the past 60 years of her life. In 1892, she was married to Mr. J. A. Lamkin who preceded her in death a number of years ago. She was a member of the Baptist Church, and had many friends in the Weimar and Live Oak sections.
Surviving Mrs. Lamkin are a sister, Mrs. Nannie Butler of Killen, Alabama, and a brother, Mr. Jesse Butler of Glidden. Also surviving are three daughters, Mrs. Chas. Martens, Alice; Mrs. Hugo Thumann, Weimar; Mrs. Hans German, Eagle Lake; and four sons, Ernest Lamkin of Weimar; Murra Lamkin of El Campo; Alva Lamkin of Weimar, and Louis Lamkin of San Antonio. Three children preceded her in death: the late Mrs. Jim Harris of Matagorda, and two who died in infancy. Twenty-two grandchildren and 2 great-grandchildren also survive.
The Mercury offers sincere sympathy to the bereaved family in their loss.
The Weimar Mercury, November 21, 1941
Submitted by Ernest Me Seaholm
Lampkins, John A.
OAKLAND NOTES
Mr. and Mrs. J. A. Lampkins lost their darling little baby boy, John A., 11 months old on the 14th inst., of congestion. Much sympathy is felt for the bereaved parents. Their little one has passed beyond to eternal life, and angels welcomed him. The remains were placed to rest in the old Clear creek grave-yard yesterday evening.
Colorado Citizen, September 17, 1885