Hill, A. J.
Services for A. J. Hill, 74, of the Bernardo community in Colorado County were held Aug. 24 at St. Roch's Catholic Church in the Mentz community in Colorado County with Father Wayne Flagg and Deacon Doug Tromblee co-officiating.
Burial followed at St. Roch's Catholic Cemetery. services included Honor Guard by 4th Degree Knights of Columbus Assembly #1136 of Columbus, and Color Guard by American Legion Post #383 and Veterans of Foreign Wars Post #6113.
Hill died Aug. 21 at his residence.
He was born on Nov. 13, 1927, in Columbus the son of Baldwin and Alice Braden Hill.
Hill was united in marriage with Beatrice Class on June 26, 1950.
He was retired, former co-owner of H & S Grocery in Bernardo and delivery man for Toepperwein's of Texas for 17 years. He served in the U.S.Army during World War II.
Hill was a member of St. Roch's Catholic Church, American Legion :Post #383, VFW Post #6113, KC Christopher Columbus #2971 and 4th Degree Assembly #1136 of Columbus, KC Cookers of Columbus, and Bernardo Hermann Sons, and charter member of Bernarado Volunteer Fire Department.
He was preceded in death by his parents; sister, Valentina Sebesta; and brother-in-law, C. J. Fritsch.
Survivors include his wife; daughter, Gerri Lynn Hill of Frankston; two sons and daughters-in-law, Danny and Barbara Hill of Fort Worth, and Daryl and Joan Hill of Bernardo; brother, Jimmy Hill of Bernardo, and six granchildren, Jamie, Natalie, Allison, Kathryn, Scott and Joanna Hill.
Pallbearers were Jason Class, Kent Brod, Carl Sebesta, Kacey Hill, Ted Fritsch and Murray Nelson.
Honorary palbearers were KC Cookers of Columbus including Clinton Huebel, Benny Farek, Nottie and Manuel Schneider, Robert Tasler, Roland Gassmann, Frank Lesikar, Richard Meyer and Ernie Smahlik.
Henneke Funeral Home, Ltd., Columbus, directors.
Banner Press Newspaper, August 29, 2002
Hill, Alex
Alex Hill, colored, a resident of Eagle Lake for twenty years, died at his home in this city Saturday night. Alex was well known and liked by all the white people and was very popular and prominent among the colored people. He was a very large man, weighing possibly three hundred pounds and was fifty-nine years of age. Alex was a good negro, and his death is deeply mourned by the people of his race. His funeral was one of the largest colored funeral ever held in Eagle Lake. [Place of interment unknown]
Eagle Lake Headlight, October 26, 1912, page 1
Hill, Alice (Braden)
Hill
Alice Hill, 90, of Bernardo died Monday, Dec. 11, 1995 at River Oaks Nursing Home in Columbus.
Born Sept. 19, 1905 in Mentz, she was the daughter of Joseph and Elizabeth (Maertz) Braden. In July 1925, she was married to Baldwin Hill. Mrs. Hill, who was a housewife and former owner and operator of the Bernardo Store, was a member of St. Roch's Catholic Church in Mentz. She was a member of the Catholic Daughters of America Court St. Roch's of Mentz 2328. She was also a member of Herman Sons Lodge 243 of Bernardo where she served as secretary and treasurer for many years.
Funeral services were held Dec. 13 at St. Roch's Catholic Church in Mentz with Father Wayne Flagg officiating. Interment followed in St. Roch's Catholic Cemetery. Services were under the direction of Henneke Funeral Home in Columbus.
Serving as pallbearers were Dan Hill, Daryl Hill, Sam Fritsch, Scott Fritsch, Ted Fritsch, Tommy Fritsch, Larry Sebesta, Steve Sebesta, Jeff Sebesta, Carl Sebesta, Kacey Hill and Kersten Hill.
Mrs. Hill is survived by daughter Doris Fritsch of Fayetteville; sons and daughters-in-law A. J. and Beatrice Hill and Jimmy and Diana Hill, all of Bernardo; son-in-law George Sebesta of Bernardo; 24 grandchildren and 36 great-grandchildren.
She was preceded in death by her husband on Feb. 17, 1947; daughter Valentina Sebesta; son-in-law C. J. Fritsch; sisters Emma Brod, Hilda Brod, Dora Braden, Teckla Nelson, Leona Polocheck and Joelean Neuendorff; brother Jodie Braden; three infant brothers; and one infant great-grandson.
Colorado County Citizen, December 27, 1995, page 10
Hill, Allan Aaron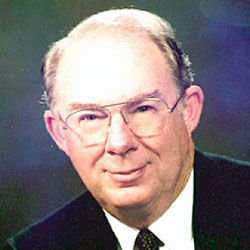 Allan A. Hill
Allan A. Hill of Columbus, Texas passed away on November 10, 2010 in Columbus.
Allan was born in Houston, Texas on February 29, 1932.
He is survived by Jane Miller Hill, his beloved wife of 55 years. Jane and Allan have three sons, Stuart Hill; Mark Hill and wife Patti and children Stacey Lowe and husband Kirk and grandson Hayden Lowe, Julia Hill and M. Christopher Hill; and Karl Hill and wife Julie and children Savannah, Chloe, Mia, Ezra, Caswell and Finley. He is also survived by one sister, Virginia Weston and several nieces and nephews.
Allan majored in Petroleum Engineering at Texas A & M University and The University of Texas where he met and married Jane on December 17, 1955. He served in the United States Army and was stationed in Aberdeen Proving Grounds, Maryland and the Fourth U.S. Army Headquarters, San Antonio, Texas.
Allan was employed by The First State Bank, Columbus, Texas in 1959. Over his 50-year career with the Bank he was promoted to Vice President and in 1976 became Chief Executive Officer and Chairman of the Board of Directors. During his banking career he served as President of The South Central Bankers Association, Director of The Independent Bankers Association of Texas, Chairman of The Houston Division of The Texas Bankers Association, and Chairman of The Columbus Bancorp. He also served as Chairman of the Columbus Community Chest and President of The Columbus Chamber of Commerce and as a Director of The Columbus Community Hospital. Allan served for several years as a member of the Grievance Committee of The State of Texas Bar Association. He has been a member of the First United Methodist Church, Columbus, Texas since 1959.
Funeral services were held at 2 p.m. Saturday, November 13, 2010 at Henneke Funeral Home with the Rev. Leah King officiating. Interment followed at Odd Fellows Rest Cemetery in Columbus.
Pallbearers were Patrick Moeller, John Polach, John Glithero, Mark Barten, Ricky Glueck and Clifford Wenske.
Colorado County Citizen, November 16, 2010
Hill, Baldwin
HILL FUNERAL HELD YESTERDAY
Funeral services for Baldwin Hill, 40, were held at the family residence in Bernardo at 3 p.m. yesteday with burial in the Cat Spring Lutheran cemetery, Columbus Funeral Home had charge of arrangements. Rev. Albert Weber of Bellville officiated.
Mr. Hill was born at Welcome on Aug. 21, 1906, a son of Otto and Anna Ripple Hill. He did suddenly late Monday. He was a member of the Lutheran church.
He is survived by his mother, Mrs. Anna Hill; his wife, the former Alice Braden;two daughters, Valentina and Doris Jean, and two sons, A. J. and James. Other surviving relatives are three sisters, Mr. C. C. Prause, Mrs. Belle Holland and Mrs. Adolph Kollatchny, and three brothers, Donnie, Guenther and Leon.
Pallbearers were his nephews.
Colorado County Citizen, February 20, 1940
Hill, Cap C.
A telegram was received here Saturday morning by Captain T. A. Hill, announcing that his son, Mr. Cap. C. Hill, was seriously ill with pneumonia at Fort Logan, Denver, Colo., where he was employed as government purchasing agent, and advising that some member of the family come at once. His sisters, Mrs. Pearl Sparks and Miss Eddie Hill, made arrangements and left on the 3:18 train for his bedside. Another message was received on Sunday evening that he died that day, and asking what disposition to make of the body. Word was sent to prepare the body for shipment home, but to hold for the arrival of the sisters. They reached Denver Monday evening and a message from them announced that they, would leave for home with the body Tuesday morning at 8 o'clock. It is expected that the body will each here Thursday on the 2:12 train train[sic] and the funeral take place in the Masonic cemetery shortly afterward. Cap Hill was raised in this city, but has been away for a number of years, during which time he was in the government service in the Philippines, but the last few years was stationed at Denver. As a boy and young man he was popular with his associates, being free hearted, sociable and pleasant to all. He possessed fine business qualifications and held numerous positions of trust. To the bereaved family, our heartfelt sympathy is extended.
Weimar Mercury, May 14, 1909
Hill, George W.
Weimar Local Matters
We are sorry to chronicle the death of little George, the three year old son of Mr. and Mrs. T. A. Hill, which occurred last Thursday morning, after a lingering illness of six months, during which time he suffered severly, and bore his sufferings with great patience. His remains were interred in the Masonic cemetery. The funeral services were conducted by the Rev. P. H. Hensley. To the family we extend our heart felt sympathy over the loss of their little cherub, whom they had watched with such tender solicitude through so many anxious weeks of suffering. Father's vigilance, mamma's prayers and grandma's tears were all in vain; the little spirit was summoned to dwell with the angelic hosts on the shores "over there."
Colorado Citizen, August 27, 1885
Hill, Horace Bismark
Former Weimar Man Dies at Galveston
Mr. Horace Hill, only son of Mrs. J. F. Bartosh of this city, residing in Galveston with his wife for a number of years, was found dead in his automobile on the beach in that city some time Tuesday. Only meager particulars are available. As best we can learn he left home in his car some time Monday and failed to return either that day or night. Search was made Tuesday and he was found cold in death in his car, having evidently been dead for a number of hours. He had been in bad health for a long while, we understand.
The remains were brought to this city Wednesday afternoon and laid to rest in the cemetery west of town. [Weimar Masonic Cemetery] Many relatives and sorrowing friends were present to pay the last sad tribute of respect.
If we mistake not, Horace Hill was born in this city. He grew up to young manhood here, and soon after the World War opened up he enlisted and was sent to France. If our memory does not fail us, it was at the time the war was ended and Horace with thousands of others was ready to return to his native land that he met with an accident that came near costing him his life and crippled him in a measure for all time. In the push and jam about the train, it is our recollection that this brave young soldier boy was forced too close to the train, was struck by it and so badly injured that it was feared for a time he would not recover. Eventually, however, he was able to return home, but never regained his former vigor.
He was a young man of pleasing disposition, well liked by a large number of friends and acquaintances, and deep regret is expressed by all at his untimely death.
He is survived by his widow, his mother, and one sister, Mrs. Frank Smith of Galveston, to whom the sympathy of this entire community is extended in their deep bereavement.
Weimar Mercury, May 25, 1934
Hill, Irma A. (Owen)
Hill
Irma A. Hill, 95, passed away at River Oaks Health Care Center in Columbus on Oct. 20.
She was born Dec. 20, 1910 in Anson, to Elias David and Lillie Mae (Johnson) Owen. Until her health failed she enjoyed traveling, her yard and plants and did handwork.
She was preceded in death by her parents; first husband Richard L. Morrison in 1937 and husband O.B. Hill in 1998; and brothers, Ithal Owen, Cois Owen and E.D. Owen.
She is survived by her son Don H. Morrison and wife Charlene of Columbus; granddaughter Linda Morrison of La Grange; sister-in-law Emma Sue Owen of San Antonio; brother-in-law Bill Hill of North Zulch; and nieces and nephews.
Graveside services were conducted at Odd Fellows Rest Cemetery in Columbus, Oct. 23, with Lynn Wilson officiating.
Colorado County Citizen, October 25, 2006
Courtesy The Citizen
Hill, James Marion "Jim"
Hill
Jim Hill, 60, of Bernardo, passed away Aug. 29 at the San Jacinto Methodist Hospital in Baytown. He was born Aug. 15, 1944 to Baldwin and Alice (Braden) Hill and married Diana Heuermann on April 25, 1965. He was a member of St. Roch's Catholic Church in Mentz.
He was preceded in death by his parents; brother, A.J. Hill; sister, Tina Sebesta; father-in-law, John Heuermann; and brother-in-law, C.J. Fritsch.
He is survived by his wife; mother-in-law, Marie Heuermann of Houston; daughters, Katie Hill of Seattle, Wash. and Kristina Pflughaupt and husband, Wayne of Frelsburg; sons, Kacey Hill of College Station and Kersten Hill of Bernardo; sister, Doris Fritsch of Fayetteville; sister-in-law, Bea Hill of Bernardo; brother-in-law, George Sebesta of Bernardo; and three grandchildren, Holly Pflughaupt, Hannah Pflughaupt and Austin Pflughaupt.
Funeral services are at 10 a.m. Wednesday, Sept. 1 at St. Roch's Catholic Church in Mentz. Interment will follow at St. Roch's Catholic Cemetery.
Pallbearers are Larry Sebesta, Sammy Condra, Sammy Fritsch, Ronald Grant, Danny Hill, Steve Sebesta, John Brock and Scott Fritsch. Honorary pallbearers are Ted Fritsch, Tommy Fritsch, Carl Sebesta, Jeff Sebesta, Daryl Hill, Jerrold Grant, Gary Grant and Mike O'Brien.
Colorado County Citizen, September 1, 2004
Courtesy of The Citizen
Hill, Jerry Gifford
Hill
Jerry Gifford Hill, of Frelsburg, passed away peacefully during the early morning hours Sept. 23 with his loving and devoted wife, Mary Jo Dallas, by his side.
He was a loving and devoted husband, father, attorney and an United States Air Force Colonel. His commitment to his family, clients and country will forever be an example of those qualities that are best in all men.
He is survived be his wife of 55 years, a brother, brother and sister-in-law, children, their spouses, six grandchildren and a very, very dear friend. He loved all of them... John Hill, Jim and Sissy Park, Marcus and Jeffrey Hill, Filomena and Lee Martin, Thaddaus Hill and Abigail Falk, Christian and Rae Hill, Gifford and Liz Hill, Ross, Libby. Mary Alice, Russell, Mary Jordan, Christian and a most loving friend indeed; James Bradshaw Earthman IV...unconditionally.
He will be sorely missed.
As well, the family would like to express a most sincere and heart felt gratitude towards our friend and priest Father Wayne Flugg of Sts. Peter and Paul Catholic Church of Frelsburg. [Interment in Sts. Peter & Paul Cemetery]
Colorado County Citizen, October 3, 2007
Courtesy The Citizen
Hill, Josie (Jones)
Mrs. Josie Hill, daughter of Gen. Augustus Jones, of this city, died at 10 o'clock last Monday night. It has been said that
"Death rides on every passing breeze,
And lurks in every flower,"
but to one so young, so beautiful, it comes with peculiar harshness. Deceased was married to the man of her choice in April last, and had entered upon a career of happiness and prosperity, but soon the Fell Destroyer marked her for his own. [Interment in Columbus Odd Fellows Rest.]
Colorado Citizen, July 8, 1880
Hill, Mary
Death of Centenarian
Last week, Miss Mary Hill, who was probably the oldest person in the county, died at the home of Mrs. Arthur Oakes near Glidden. Miss Hill's age was unknown to any person in this country and she had no known relatives. For the past twenty-seven years she has lived with Mrs. Oakes, and prior to that time she lived with Mrs. Judge Riley, Mrs. Chas. Traylor and Mrs. Miller, mother of Mr. G. F. Miller. While her age was not known, she was generally conceded to be at least 100 years old, though some doubted it. Mr. Miller is of the opinion that she was about the age of the late Dr. Bowers, and the doctor would not have been a centenarian if he had lived until this time. Mrs. Oakes feels confident that Miss Hill was several years older than Dr. Bowers, both of whom she had known for many years. Mr. F. G. Mahon who had known her for more than half a century, feels quite sure she was over a hundred, and Capt. Geo. H. Little regarded her as an old woman long before the civil war. Fayette Yancy, the clear headed old colored man, who is now well along in the eighties, and who in slavery time belonged to Miss Hill's family in Mississippi, is of the opinion that she was at least twenty years older than himself, which would place her between the century mark and a few years to spare. Miss Hill has always been a strict member of the Baptist church and her funeral was conducted by Rev. Chas. Pond of that denomination. Many people here who knew her many years ago, had long since forgotten her until reminded by her death. If she was a hundred years old, she is the fourth centenarian to die here within the past four years. By this, it would seem that Columbus is not a healthful place for people to reside who have attained that age. [Place if interment unknown]
Colorado Citizen, June 28, 1912
Hill, Mary Myrtle (Cox) Goodson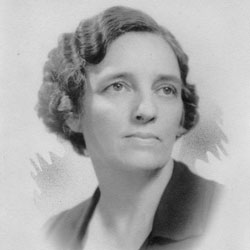 Final Rites for Mrs. Myrtle Hill Held at Columbus.
Funeral services for Mrs. W. M. (Myrtle) Hill, 77, mother of Mrs. F. C. (Buddy) Seifert of Weimar, were held Tuesday at Columbus Funeral Home with Rev. Clarence James officiating.
Burial was in Odd Fellows Rest Cemetery at Columbus.
Mrs. Hill, a resident of Parkview Manor in Weimar, died Monday at Youens Memorial Hospital.
She was a member of First Baptist Church and the Order of the Eastern Star in Columbus.
Born March 15, 1892, near Round Rock in Bastrop County, she was the former Mary Myrtle Cox and had lived in Columbus since 1926,
Surviving are four daughters, Mrs. James F. (Estella) Wilson of Winnsboro, Mrs. Leroy (Lois) Bahner of Wharton, Mrs. E. W. (Ruth) Ferguson of Liberty and Mrs. F. C. (Betty Jo) Seifert of Weimar; ten grandchildren and two great-grandchildren; and a sister, Mrs. B. B. (Alma) Beck of California.
Pallbearers were Leroy Bahner, James F. Wilson, E. W. Ferguson Jr., F. C. Seifert, Bill Duncan and David Bahner.
Weimar Mercury, October 30, 1969, page 10
Photo contributed by Betty Seifert
Hill, Sallie L. (McGehee)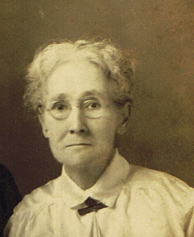 Death of Mrs. Sallie L. Hill
It is indeed with a sad heart that the Mercury records the death of Mrs. Sallie L. Hill, the beloved wife of Captain T. A. Hill, which occurred at the family residence last Thursday afternoon, after an illness of several weeks, following a paralytic stroke. Mrs. Hill was first stricken with paralysis of the sight of one of her eyes, and this was quickly followed by paralysis of one side of her body. Following the second stroke, the family physician notified the family, relatives and friends that he could hold out no hope for recovery and that it was but a question of a short time until this most estimable lady would go to join her loved ones on the other shore. However, at times she seemed better,and even these slight changes cheered the anxious ones around her bedside with hope that possibly, after all, she might survive. Soon however, it was seen that these hopes were forlorn, and that the loved one was fast slipping away from the cares of this world. On Thursday afternoon, shortly after the noon hour, she breathed her last, surrounded by the family circle of which she had so long been a member and by whom she was beloved as but few wives and mothers are. Kind and loving hands tenderly prepared the body for interment, and on Friday afternoon the remains were laid to rest by the side of her loved ones [Weimar Masonic Cemetery] who had preceded her in that last, long sleep which must in the end come to us all. The procession was one of the longest ever witnessed in this part of the state, and was a beautiful testimonial of the great love and respect our people had for Mrs. Hill. The funeral services were of the most touching character, and were conducted by Rev. Roy G. Rader, her late pastor, and Rev. Isaac Sellers, a life long friend of the family, assisted by the Methodist and Baptist choirs in a beautiful song service. At the conclusion of these services, the grave was filled and the floral tributes placed thereon. So numerous, however, were these testimonials of love and affection that the grave was completely hidden from sight and still there remained enough beautiful flowers to cover the other graves on the family lot. A touching testimonial indeed of the affection which people everywhere had for this most estimable, good woman.
Mrs. Sallie L. Hill was the wife of T. A. Hill, and both were natives of Texas. Mrs. Hill was born July 30, 1844, at Rutersville, Fayette county, Texas. She was married to Mr. Hill Nov. 28, 1865, and was the mother of eight children, four boys and four girls. Two of these children, "Cap" and George, preceded her in death a number of years ago. Six children survive--T. Y. Hill of Halletsville, T. W. Hill of Weimar, Mrs. Pearl Kindred of Eagle Pass, Mrs. George McCormick of Houston, Mrs. Eddie Ratliff and Miss Itaska Hill. Mrs. Hill, with her husband, moved to Weimar Oct., 1873, and was the oldest female resident of this place, living here for the past forty-three years. She joined the Methodist church at the age of 14 years, and lived a consistent, christian life up to the time of her death, always taking a keen interest in the affairs and work of the church.
Few ladies have ever lived in this community who possessed such a strong hold upon the affections of our people as did Mrs. Hill. But this is not to be wondered at. Her life given over to doing good, she was always first at the bedside of the sick and afflicted, and no call for charity ever passed her unheeded. Full well does the writer of these lines remember the times when sickness and disease entered his own home and his heart was torn with agony as his loved ones lay there desperately ill. It was Mrs. Hill, that grand character, who was first to come and tender her help, and with consoling, comforting words lightened the hearts of the inmates of that home. And it was this way in every instance which came to her notice. She waited not for an invitation to come and minister to the sick; gladly she went and did all within her power. She was a most lovable friend and neighbor. Free from the petty frailties of the weaker sex, she was a welcome visitor in every home, for her coming always brought sunshine and comfort to those around her. As a wife and mother she was without reproach. Her husband and children loved her as but few wives and mothers are loved, and not without cause, for her life was surrendered to their care and comfort and she did it gladly. This earth has been blessed with but few such characters as Mrs. Hill, and in her passing away we feel that a heavy blow has indeed been placed upon us.
God pity and comfort her bereaved husband, children, relatives and friends, is he sincere, heartfelt wish of the writer.
Weimar Mercury, October 20, 1916, page 1
Hill, Thomas Anderson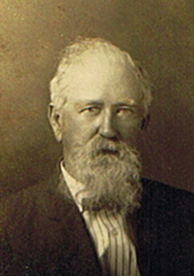 DEATH OF HONORED, GOOD, TRUE CITIZEN
CAPTAIN T. A. HILL PASSED AWAY SUNDAY MORNING AT FAMILY RESIDENCE.
In the passing away of Captain T. A. Hill at the family residence in this city last Sunday morning, following a long and trying illness, our community has lost one of its oldest, best and most honored citizens, our county and state one of its representative business men, and the writer one of the dearest friends that man ever possessed. Up to a few years ago Captain Hill was one of our most active, energetic business men. Engaged in the banking business, he was at his post of duty daily, with a faithfulness and energy worthy of emulation. As age began to creep upon him, he gradually relinquished business cares, and ill health following, the decline was gradual but sure. A few months since it became evident that his health had failed to such extent that business care must be put aside forever, and from that time on, although every care and attention was given him by loved ones at home, physician and friends, none could stay the hand of Time and soon this beloved, good man lay helpless, and all realized that it was but a question of time until the end would come. However, up to the last, his mind remained clear and it was remarkable how his endurance held out. Death was not to be denied, however, and on Sunday morning after many weeks of illness, "God's finger touched him, and he slept," forever through with the care and worries of this life and gone to join loved ones gone on before.
Funeral arrangements were made and interment took place at the Masonic Cemetery Monday afternoon, the remains (robed in the Confederate gray which he loved so well) being placed beside the beloved wife who had preceded him to the grave some eight years ago. Services were held first at the family residence by Re. J. C. Wilson, Methodist pastor, after which Weimar Masonic lodge (of which he was a charter member) took charge of the remains, and in an impressive ceremony the body was committed to mother earth, Former Grand Master J. J. Mansfield acting as master of ceremonies. This was followed by the placing of a wreath and Confederate flag at the head of the grave, by Mrs. Fannie Mahon of Columbus, in behalf of the Colorado county chapters of the Daughters of the Confederacy, following same with a brief eulogy on the life and services of Captain Hill.
Active pall bearers at the funeral were six nephews of Captain Hill, as follows: Frank and Tom Oliver of San Marcos, T. O. Hill of Smithville, George Watkins and Milton Wilkes of Llano, and Hood McGehee of San Antonio. The Masonic lodge also appointed six active pall bearers, consisting of Geo. F. Loessin, Ben B. Holt, H. M. Little, H. Brasher, Sr., Dr. C. E. Duve and Emil Fahrenthold, who assisted in the funeral ceremonies.
Honorary pall bearers designated by the family were as follows: H. J. Laas, F. F. Anders, R. R. Hluchanek, W. A. VanAlstyne, Dr. C. G. Cook, Jno. C. Hubbard, W. C. Munn of Houston, Rev. Isaac Sellers, W. P. Watson, F. D. Moore, Geo. Herder, Sr. and R. C. Thomas of Eagle Lake, J. J. Armstrong, Sr., John H. Brooks, Wm. Popp, I. Lauterstein, Geo. Herder, Jr., G. A. Moore and R. L. Williams of Bay City, H. Brasher, Sr., John A. Lowrey, Geo. McCane, J. N. Mahon, Frank Auerbach, Sr., Geo. Best and Leon F. Dick of Columbus, John Fowlkes and J. W. Carson of Hackberry, J. D. Sayers of Austin, J. J. Mansfield and Sam K. Seymour, Sr., of Columbus. W. H. Foxel, T. J. Spears, J. W. Hill of San Angelo, Lyle Woods of Dallas, Dr. Jas. Byars of Columbus, D. H. Combs of San Antonio. Geo. T. McGehee and Alex McGehee of San Marcos and Edward McGehee of Fort Worth.
The Hill family came from Georgia to Texas in 1831. Captain T. A. Hill, the subject of this sketch, was born at Bastrop, Texas, Dec. 8th, 1841.
In early life he attended school at Bastrop, Rutersville, and the Marietta, Ga., Military College, where he happened to be when the Civil War broke out. He immediately volunteered and was commissioned a lieutenant, commanding a six-gun battery of artillery, and while waiting for equipment was detailed to drill raw troups and recruits at a concentration training camp in Georgia. Later, with his battery of artillery, he was stationed at Cumberland Gap to help prevent the Union forces passing this Gap.
Sometime after, he was commissioned a captain of Infantry Company 1, 12 Georgia, and while fighting before Vicksburg was captured, and later paroled. He returned to Texas and re-entered the services as Inspector General of Cavalry under Gen. Henderson, operating in the Indian Territory, from where he was ordered east of the Mississippi again, joining Hood's 8th Texas Brigade, charged with harassing Sherman's March to the Sea.
He was wounded at the battle of ____, before Atlanta, where he was captured by the Federals, and along with other captured officers, imprisoned on Johnson's Island in Lake Erie for the final winter of the war--1864-1865,
During the fighting through North Tennessee and Kentucky, he was detailed a provost marshal of the city of Lexington.
In all of his army service of what he deemed right in that unfortunate struggle, he made a good soldier, and his dearest traditions are the words of praise and enco__s of his officers and war-time comrades.
After the war he returned to Texas and here married Miss Sallie L. McGehee on Nov. 20th, 1865.
He merchandised successfully, first at LaGrange and then at Columbus, Texas, after which he ran a farm and gin at Williams Creek, some twelve miles north of Weimar. When the railroad was extended to Weimar he moved here in 18__, and engaged in business, in which he was active until the last few years. Capt. Hill was founder of the T. A. Hill banking business here, and was active manager of same up to a few years before his death.
He was a staunch friend always, and an honored and respected citizen, who made a large contribution to his state and generation--always the soul of honor and highest integrity.
His good wife preceded him to the eternal world on Oct. 12th, 1916. To this union there were born eight children, six of whom survive. One son, George, died in infancy, and Cap. C. Hill died in the service of the U.S. Army in Ft. Logan, Colorado, leaving a son and daughter, Horace Hill of Columbus and Mrs. Grace Smith of Galveston. Other surviving grandchildren are Mrs. Cora Barnett of Llano and Scott S. Hill of Halletsville, and Thomas Sparks of Port Arthur. The surviving children are: T. Y. Hill of Llano, T. W. Hill of Weimar, Mrs. Pearl Kindred of Columbus, Mrs. Lela McCormick of San Francisco, Calif., Mrs. Eddie Ratliff and Miss Itasca Hill of Weimar.
In closing these remarks the writer can not refrain from personal allusion in the life and character of Mr. Hill, in whose death, as stated in the foregoing, was lost one of his nearest and dearest friends. As a youth of 18 or 19 years, we met Mr. Hill for the first time to know him personally. Soon thereafter we felt called upon to ask him for financial assistance, that we might engage in business in Weimar. it was granted readily, as it was in scores of other instances, for it was the delight of this good man to help others., Yet he never wanted it mentioned, and often rebuked those who made mention of his kindness. During the 36 years or more which have elapsed since our first acquaintance, our friendship never wavered. We knew and loved this good man. Many and many a time in our past life have we gone to him for advice or counsel, and it was always granted with cheerfulness. During the trying time years ago when the writer passed through the most heart-breaking ordeal of his life, in the death of two beloved sons, the first man to proffer comfort and assistance to us was Mr. Hill, and in that terrible hour it was like a ray of sunshine coming into our life. And what he did for us he did for many others. But he never referred to it, and did not want others to know of it, satisfied to let the Almighty Father above be the carrier of his secret kindness. In his death, not only the writer, but many others, has lost one of the dearest and best friends that any man ever possessed, and we mourn with his loved ones in the deep loss they have sustained. May God comfort them as He alone can.
Weimar Mercury, October 10, 1924, page 1
Hill, Thomas W.
Tom Hill, Oldest Weimar Resident, Buried Monday
Thomas W. Hill 78, Spanish-American War veteran and resident of Weimar for 76 years, succumbed suddenly at his home Sunday morning, Feb. 19, about 10 o'clock.
He had been in ill health for the past several years, but still up and about. Sunday morning about 10 o'clock he suffered a heart attack as he sat reading a paper in the home of his sister, Mrs. Itasca McCormick, with whom he made his home, dying immediately. Mrs. McCormick was at church, but another sister, Mrs. Eddie McCormick, was with him at the time.
Funeral services were held from the Hubbard Funeral Home Monday afternoon at 2 o'clock, Rev. J. M. McDonald of the Methodist Church officiating. Interment was in City Cemetery here.
Born in Bastrop County, Sept. 11, 1871, he was the son of the late Capt. and Mrs. T. A. Hill, who moved here in 1873. Capt. Hill founding the T. A. Hill Bank, now Hill Bank & Trust Co. Mr. Hill attended Weimar Institute and Texas A. & M. College, later going to Poughkeepsie, New York, to take a business course. He worked in this father's bank awhile and later was in the lumber business. During the Spanish-American war he joined the infantry company formed by the late Capt. Walker of Schulenburg.
Mr. Hill at the time of his death was a director of the Hill Bank and Trust Co., a position he had held for about 25 years. In the past he had also served many years as a Weimar High School trustee, and held membership in the Rotary Club, Odd Fellows, and the Methodist Church.
Possessor of a keen memory, even in his later years, he was probably the best authority on Weimar's history and often was approached by persons seeking such information.
Surviving in addition to his two sisters here are brother, T. Y. Hill of Llano, another sister, Mrs. Wayman (Pearl) Kindred of Columbus; and numerous nieces and nephews.
Pallbearers at the funeral were Henry Brasher, Bill Hopper, Grady Shaver, F. F. Anders, Laure Brasher, Joe Bartosh, Leroy Herder, and E. Lauterstein.
Weimar Mercury, February 24, 1950. page 1
Hill, William Marshall
W. M. HILL LAID TO REST HERE SUNDAY
Last rites for William Marshall Hill, 61, were held at the First Baptist church Sunday afternoon, with Rev. Joe E. Love officiating. Columbus Funeral home was in charge.
Masonic services were held at the graveside at Oddfellows Rest.
Mr. Hill, who operated a local shoe repair shop for 18 years, came here from Mercedes. He first worked for Horton and Horton gravel company. Born at Atlanta, Texas, Nov. 14, 1887, he was a son of Frank and Creasey Tremain Hill.
Besides being a Mason, he was a member of the Columbus Lions club and the Baptist church.
He had been ill about two years. Death came at his home at 5:15 p.m. Saturday.
He is survived by his widow; two daughters, Miss Betty Jo Hill and Mrs. E. W. Ferguson Jr., of here; two step-daughters, Mrs. James F. Wilson of Dallas and Mrs. Leroy Bahner of Wharton, and four grandchildren, Linda Carol and David Bahner and Nancy and Tessie Wilson.
Surviving brothers are Frank Hill, Fort Worth; Arthur Hill, Little Rock, Ark., and Clarence Hill of New Boston; and surviving sisters aclude(sic) Mrs. Abbie McElyer, Mrs. Emma Evans and Mrs. Eula Hall, all of Paris, Texas, and Mrs. Madge Ballard of California.
Frank Hill, Mrs. McElyer and Mrs. Evans, Mr. and Mrs. Wilson and Mr. and Mrs. Bahner were here from out of town to attend the services.
Pallbearers were members of the Masonic lodge.
Colorado County Citizen, February 3, 1949