Herndon, Belle (Morrow)
WEIMAR LADY'S SISTER BURIED HERE THURSDAY
Funeral services for Mrs. Ysalle Belle Morrow Herndon, 62, of Del Rio whose death occurred Tuesday in San Anotnio, were held at the funeral home here Thursday morning with interment in the Masonic [Odd Fellows] Cemetery, the Rev. S. H. Horwood officiating. She was a sister of Mrs. F. W. Kolterman of this city.
Mrs. Herndon was born near Schulenburg, Lavaca county July 9, 1880. She married Mr. Dick Herndon in 1904 and the couple moved to Weimar, where they resided until 1911. They left Weimar for East Texas and moved to Del Rio in 1934.
Survivors included her husband, Dick Herndon, and one daughter, Miss Folly Herndon, of Del Rio three brothers, Drew Morrow and Stuart Morrow of Schulenburg, and L. A. Morrow of Kerrville; and there sisters, Miss Evelyn Morrow of Schulenburg, Mrs. F. W. Koltermanof Weimar and Mrs. G. B., Cummings of Houston.
Weimar Mercury, December 25, 1942, page 1
Herndon, Boswell
News of the death of Mr. Boswell Herndon, son of Mrs. Wm. Herndon of this city, was received here Thursday afternoon about 5:30. He had been at work near Beaumont for some time, but was taken sick and removed to the home of Mr. Casper Bell of Houston, where he died, his death being caused from yellow jaundice. The remains were brought here and will be laid to rest in the Odd Fellows' cemetery this (Friday) afternoon at 5 o'clock. Boswell was about 26 years of age, a young man of genial disposition, industrious habits, and although a sufferer of ill health the last years of his life, retained his cheerfulness to the last. He had many friends wherever known and his death is deeply and sincerely regretted. Our condolences are extended the bereaved family.
Weimar Mercury, June 28, 1902, page 2
Herndon, Catherine (Tooke)
Former Weimar Lady is Brought Here for Burial
Relatives and friends here were notified Friday night of the death of Mrs. Kate Herndon widow of the late Mr. Lun Herndon and former resident of this city for many years. Her death occured[sic] at the home of her daughter in Houston where she had been making her home for a number of years. The remains were brought here for interment Saturday at noon. [Odd Fellows Cemetery]
Mrs. Kate Herndon was 76 years of age at time of death. She had made her home in Houston for the past twenty years. Her death followed a brief illness. She is survived by three daughters, Mrs. Clem R. Kennon of San Antonio, Mrs. C, G. Kable of Houston and Mrs. S. E. Cavitt of Bryan; three sons, Eugene and Lunnie Herndon of Ardmore, Okla, and John Herndon of Houston; three sisters, Mrs. A. M. Rhodes of Fort Worth, Mrs. Lillie Stockton and Mrs. Emma Tooke of Louise, Texas and five grandchildren.
Mrs. Herndon is well remembered by many of the old time citizens of this section as a lovable lady, a true and devoted wife and mother, and a neighbor and friend hard to excel. Up to some twenty years ago she lived in this city and vicinity, and no more popular lady existed. Her death is deeply and sincerely deplored by all,
Our heartfelt sympathy goes out to her bereaved ones.
Weimar Mercury, October 31, 1930
Herndon, Charles
Former Weimarite Brought Here for Burial Tuesday
News was received here Monday afternoon that Mr. Chas. Herndon of Utopia, Texas--former citizen of this place and son of the late Mr. and Mrs. Wm. Herndon--had died and the remains were brought here for burial Tuesday afternoon, the ceremony taking place from the residence of Mr. H. Brasher, with interment in the Odd Fellows' Cemetery.
Quite a number of old time friends were present to witness the last sad rites over the remains of one who was at one time one of the most popular citizens of this community. Relatives of this old time, honored family were also present from many parts of the state.
Chas. Herndon lived here in his younger days, and was highly regarded by all. In early youth he had the misfortune to lose one of his legs through explosion of an anvil down at Wharton but this handicap never seemed to bother him, for he was always the same genial, clever spirit as of yore. He was an honorable, good citizen at all times. He was united in marriage a number of years ago to Miss Omi Belt, a beloved lady of this section, and she together with three sisters--Mrs. A. L. Davis and Miss Odie Herndon of San Marcos and Mrs. McLendon of Dripping Springs--and one brother, R. G. Herndon of Uvalde, survive.
Our heartfelt sympathy goes out to the bereaved ones.
Weimar Mercury, May 23, 1930, page 1
Herndon, Charles William
Charles Herndon Of Ramsey Is Buried Here Saturday.
Funeral services were held in Eagle Lake Saturday afternoon for Charles William Herndon. 71, who died at his home the preceding Thursday after having been iII for some time. Burial was in Odd Fellows Rest of Columbus, Rev. H. A. Lee, Baptist minister of Eagle Lake officiating.
Born in Fredonia, Ala., May 9, 1880, Mr. Herndon came to Sheridan when he was 3 years old. He had been living near Ramsey since 1915.
Mr. and Mrs. Herndon celebrated their 40th wedding anniversary Oct. 25. They had lost 2 sons, one, Ernest August, who was killed Nov. 5, 1941, while fighting with the army in Luxembourg, and another, Oscar Charles, who died of pneumonia Oct. 13,1944.
Besides his widow, Mr. Herndon is survived by a son, William Fred, of Ramsey: 2 daughters. Mrs. Hassie Swing. San Antonio, and Mrs. Elvie Goeckler, Houston; 4 grandchildren; 3 sisters, Mrs. Hassie Kinney, Port Arthur: Mrs. Nell Miller, Baytown, and Mrs. Birdie Adair, Houston and 1 brother, Bob, of Cleveland.
Mr. Herndon was a first cousin of Lester Dennis of Columbus. Among those here for the funeral were Mrs. John Logan, Mr. and Mrs. Mack Logan and Mrs. Willie Mangrum, all of Gonzales.
Colorado County Citizen, November 8, 1951, page 1
Herndon, Ernest August
Eagle Lake Buries Another of War Dead
Friends and relatives gathered on Monday evening at the Southern Pacific Station to receive the body of Pfc. Ernest August Herndon, another of America's war dead, who returned to the states recently from the European Theatre of war.
Private Herndon was born on April 23, 1922 and lived on a farm near Ramsey with his parents until called to serve his country on November 20th, 1942. He first reported to Camp Robinson, Arkansas, and after a furlough at home in December 1943 he left for Camp Maxey and was among the troops which participated in the invasion of Kiska in the battle for the Aleutians Islands.
He was then sent to England, later to France and then into Luxembourg where he died of wounds received in action against the enemy on November 5th, 1944.
He was among the first of the war dead to be returned from the European Theatre.
He is survived by his parents, Mr. and Mrs. C. W. Herndon, one brother, Fred; two sisters, Mrs. H. O. Swing of Bandera and Mrs. Raymond Goeckler of Houston, and other relatives.
Funeral services were held from the Mill Funeral Home in Eagle Lake at two o'clock on Wednesday afternoon, Rev. Albert Brown, chaplain of the W. Cherry-M. Perry Post 108 of the American Legion and pastor of the First Baptist Church of which Private Herndon was a member, officiated at the service.
Burial was at Odd Fellows Rest in Columbus with the Eagle Lake Post of the American Legion conducting the last rites.
Jimmy Ray of the Baptist Revival sang a favorite hymn at the funeral home here. Rev. Albert Brown conducted the services.
The W. Cherry-M. Perry Post 108 of the American Legion conducted the services. E. J. Parma and Henry Kretzschmar were color bearers, Hillie Kretzschmar and Kennie Bauer were color guards.
The firing squad included Joe S. Reed, Jr., Fred R. Frnka, Roland Campbell, Elmer Schindler, M. A. Beard and L. J. Spanihel. Martin Hale assisted by Jimmy Jochetz and Tommy Scott sounded the taps at the grave.
Legionnaires were pallbearers and included D. S. Taylor, Harrison Walker, Frank Duty, Ted Brunner, Edmund Schindler and Lawrence Herring. The flag which draped the casket was folded by Mr. Taylor and Mr. Schindler and this was presented to the family by Sergeant Brunner who escorted the body to Eagle Lake.
Deepest sympathy is expressed to the Herndon family in their sorrow.
Eagle Lake Headlight, November 28, 1947
Herndon, Frank
Frank Herndon Seriously Hurt.
Mr. Frank Herndon, a popular young man of Chesterville, was seriously hurt near that place shortly after 12:00 o'clock Thursday night by being run over by a hand car on which he was riding on the San Antonio & Aransas Pass railroad. The car passed over his body inflicting painful wounds in his head, back and shoulder, the wound in his back leaving him in a paralyzed condition. He was brought to this city and taken to Dr. Fitzgerald's office for medical attention where he was seem by a reporter of this paper this (Friday) morning, but being in great pain he was unable to relate how the accident occurred, but it is thought the slipping of the hand hold caused him to fall forward the car passing over him inflicting injuries as above stated. The unfortunate young man when seen this morning was thought to be in a serious condition. [Interred at Cheetham Cemetery]
Undated Eagle Lake Headlight news clipping
Contributed by Regena Williamson
Herndon, Ida Minnie (Meyer)
Minnie Herndon
Ida Minnie Herndon, a native of Eagle Lake, died in Houston Friday.
Graveside services were held at Odd Fellows Rest Cemetery in Columbus 10 a.m. Monday.
Mrs. Herndon was a member of the First Baptist Church of Eagle Lake.
Survivors include two daughters, Mrs. Hassie Swing and Mrs. Elvie Nell Goeckler, both of Houston; four grandchildren and ten great-grandchildren.
Three sons preceded her in death.
Colorado County Citizen, September 7, 1978, page 2
Herndon, Lunsford Dewitt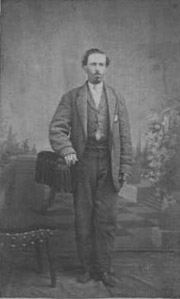 Mr. L. D. Herndon, one of Weimar's oldest and most respected citizens and business men, died at the family residence Wednesday night, after a long and painful illness. Mr. Herndon had been in ill health for a long time, and while his death was not unexpected, nevertheless it was a source of much sorrow to the numerous friends of the family throughout this section. Mr. H. possessed a gental (sic) disposition, was an honest, upright man, a member of the Methodist church, and in every way a citizen of whom the community could justly feel proud. He leaves a widow and six children, all grown, to whom the heartfelt sympathy of the community is extended. The remains were interred in the Odd Fellows' cemetery Thursday afternoon at 3:30.
Weimar Mercury, January 18, 1908 Photo courtesy Sally Weeks
Herndon, Mary V. (Powell)
Death of Mrs. Wm. Herndon.
It is with the deepest feelings of sorrow that we chronicle the death of Mrs. Mary V. Powell Herndon, wife of Wm. Herndon, who preceeded[sic] this noble old lady several years ago. Mrs. Herndon was a Miss Powell, daughter of Colonel Powell. well known to the early settlers of Texas, married Mr. Wm. Herndon, Oct. 27th. 1859 and at the time of her death was in her 73d year. a most devoted mother and a life long christian lady, charitable, kind and affectionate, who will be sadly missed by a great circle of friends and relatives.
Five children survive her, Charles, and R. G., of Weimar, Mrs. Willie Davis and Miss Odie Herndon, of San Marcos, and Mrs. Effie McLellan, of Dripping Springs.
Mr. and Mrs. Wm. Herndon were among the very first citizens of Weimar and it is with troubled hearts that the older citizens of this place extend their sympathies to the bereaved.
This pure and noble old lady became ill while on a visit to her daughters at San Marcos and after a short spell God saw fit to take her to his home beyond the skies, Monday evening, May 31, surrounded by her entire family.
The remains were brought to Weimar and interred in the family lot in the Odd Fellows cemetery, the funeral ceremony taking place Thursday morning at 9 o'clock from the Christian church, Rev. J. N. Murphy, the pastor, officiating.
The Mercury joins a host of friends in extending their deepest sympathy, and may our heavenly Father comfort the hearts of the sorrowing children is our sincere prayer.
Weimar Mercury, June 3, 1910, page 8
Herndon, May
Miss May Herndon, an estimable young lady of this city, eldest daughter of Mrs. M. V. Herndon, died at the family residence last Saturdays night about midnight, after a long illness of typhoid fever. Her remains were interred at the Odd Fellows' cemetery the following afternoon, Elder J. J. Cramer of Lockhart performing the last sad rites. Miss Ma was a general favorite with those who knew her, and her death is deeply deplored. She was a kind-hearted, consistent christian lady. Our heartfelt sympathy goes out to the bereaved family in their affliction.
Weimar Mercury, February 28, 1903
Herndon, Oscar Charles
Native of Ramsey Interred Here Sunday
Funeral services were held Sunday afternoon for Oscar C. Herndon who died at Bell hospital at 10 a.m. Friday after an illness of almost a month with pneumonia and complications. Interment was in Odd Fellows Rest with the Rev. L. Culpepper Jr. of the First Baptist church of Eagle Lake officiating. Columbus Funeral Home was in charge of arrangements.
Mr. Herndon was born at Ramsey on June 1, 1917, living with his parents on a farm and attending school in Eagle Lake.
Survivors include his parents Mr. and Mrs. C. W. Herndon, two brothers, Fred Herndon of the U. S. navy, Ernest Herndon of the army and two sisters, Miss Hassie Herndon of Decatur, Ill. and Mrs. R. Gloeckler[sic] of Ramsey.
A cousin, Lester Dennis, lives here.
Colorado County Citizen, October 19, 1944, page 1
Herndon, Powell
News was received here Tuesday of the death of Mr. Powell Herndon, eldest son of the late Wm. Herndon, which occurred at Ozona, Tex., last Friday, Jan. 14, at 9:30 ;.m., after a brief illness, of pneumonia. He was buried by the Masonic order, of which he was a member, at 1 p. m. last Sunday. He leaves a wife and three children, and numerous relatives and friends, to whom our heartfelt condolence is extended.
Weimar Mercury, January 22, 1898, page 1
Herndon, Richard G. "Dick"
Former Resident Dick Herndon, 78, Buried March 25
Funeral services for Richard (Dick) Herndon, 78, a Weimar native who moved from here nearly 50 years ago, were held at the. graveside in Masonic [Odd Fellows] Cemetery here Wednesday, March 25, after services at his home town Del Rio.
Rev. Howard Mac Allister, Methodist minister, officiated.
Mr. Herndon died in a Del Rio hospital Tuesday, March 24, after a heart attack.
Born here April 6, 1880, he was the son of William and Mary Herndon, one of Weimar's earliest couples. He married Miss Belle Morrow here in 1904, and they moved from here In 1910. Mr. Herndon was a member of First Christian Church at Del Rio.
Surviving are his daughter, Miss Molly Herndon of Del Rio and several nieces and nephews.
Weimar Mercury, April 3, 1959, page 1
Herndon, unknown
Weimar Local Matters
The death angel has visited two homes in our midst this week. Chas. King's infant child died the 6th inst., and Mr. and Mrs. Wm. Herndon's the 8th inst. He that said "suffer little children to come unto me," etc., has taken the two little innocents to his bosom. [Place of interment unknown]
Colorado Citizen, February 14, 1893
Herndon, William
The death of William Herndon occurred at his Weimar home at 10:35 Wednesday morning. He died of heart disease, with which he had been afflicted for many years; had been in wretched health for two or three years. He was 63 years of age; was a native of Kentucky, but had been in Texas 44 years, settling first in Williamson county. He moved to this county in 1871, and resided in this community 25 years. He leaves a wife and nine children, four daughters and five sons, all grown except the youngest, who is is[sic] perhaps 16 or 17 years old, and some of them married. He was highly esteemed by all who knew him, was a Christian gentleman, and a short time before his death he told his family goodbye and said he was "ready to go home," remarking that "twas a long time' when his doctor answered his question affirmatively as to whether he could live till 11 o'clock. A large concourse of sorrowing friends followed the remains to the Odd Fellows' cemetery, where they were buried Thursday evening after funeral services at the Christian church, of which he was a consistent member. According to his request Elder J. J. Cramer of Lockhart conducted the funeral services. He belonged to the United Workman, and perhaps other orders, but requested to buried under the auspices of his church. The MERCURY extends to the bereaved family and relatives its sincere sympathy.
Weimar Mercury, May 9, 1896, page 3
Herndon, Zachary
Weimar Items.
After a long illness, Mr. Z. Herndon departed this life on Friday night, the 18th inst., in the seventy-third year of his age. He was one of our oldest settlers, having immigrated to this section in 1853 [or 1859?], and was highly respected. His loss will be felt by many who were endeared to him. We offer our condolence to his family. [Interred at Weimar Odd Fellows Cemetery]
Colorado Citizzen, January 24, 1878, page 3
WEIMAR ITEMS.
We have again to note the sad death of one of our most respected citizens, Mr. Zacharias Herndon, who died on Friday night, the 17th of January, aged 73 years.
Schulenburg Argus, January 25, 1878, page 2