Harrison, Abigail Mae (Sheets)
AGED RESIDENT OF ALLEYTON PASSES
Mrs. Jessie J. Harison passed out of this life at her home in Alleyton last Sunday evening after an illness of about a week.
Funeral services were held at the family residence at three o'clock Tuesday evening and the remains laid to rest in Odd Fellows Rest in this city. Rev. Geo. W. Keeling conducted the service.
Mrs. Harrison was one of the old respected and loved characters of this section, whose paasing is a source of sincere regret to all who knew her.
She was born in Paris, Illinois, May 5, 1853. She was the daughter of J. W. and Mary Jane Sheets.
She was a faithful wife, a fond, devoted mother, and a true friend. All who knew her loved her, and her death was a shock to everyone.
Surviving her are three children, Mrs. W. W. Poole, of Los Angeles, Calif, Dr. R. H. Harrison, Ed. S. Harrison of Alleyton; four grandchildren, Jesse Poole, Anna May Harrison, Robt. Dittman Harrison, Wm. H. Harrison; and two sisters, Mrs. L. W. Johnson of Memphis, Tennessee and Mrs. J. W. Hume of Austin.
Colorado Citizen, December 18, 1924
Harrison, Alex
ASSASSINATION.— A negro named Alex Harrison was shot through the head in this city on the 24th inst. and killed. The Coroner's jury failed to elicit any clue as to the perpetrators of this outrage. He was buried by the U. G. S. Association on Christmas day. [Place of interment unknown]
Colorado Citizen, December 27, 1877, page 3
Transcribed by Dorothy Albrecht
Harrison, Bettie Pauline (Dittman)
Mrs. R. Henry Harrison
Funeral service will be held for Mrs. R. Henry Harrison at Odd Fellows Rest in this city tomorrow at 12:00 noon. The remains will be brought here from Houston via auto.
Mrs. Harrison passed out of this life at the Methodist Hospital yesterday evening at about 5:30, following an illness of several weeks. She had received a blood transfusion yesterday morning.
Miss Bettie Dittmann was horn in Alleyton June 27, 1876, and was married to Dr. R. Henry Harrison in December 1900. They lived at Alleyton until September last year, when they moved to their beautiful new home in Dryden Road in Houston.
Survivors are the heartbroken husband, one daughter, Miss Anna Mae, two sons, R. D. and William Henry of Houston, and one sister, Mrs. A. F. Mitchell of Corsicana.
They Sympathy of the entire community goes out to the sorrowing ones in their sad hour.
Colorado County Citizen, December 31, 1936
Transcribed by Dennis Boatright
Harrison, Clarence O.
Mr. Clarence O. Harrison
The earthly remains of Mr. Clarence O. Harrison were laid to rest in the Masonic Cemetery at Weimar Monday afternoon, Rev. W. L. Hightower of the Methodist church officiating.
Mr. Harrison died in Houston Sunday. He was 51 years of age, and a former citizen of this county.
He is survived by a wife, one son, E. Q. Harrison, a sister, Mrs Will Hennesay of San Antonio and two brothers, R. G. Harrison of Legion and Robert of San Antonio, to whom our sympathy is extended.
Colorado County Citizen, September 14, 1933
Clarence O. Harrison, Houston, Claimed by Death
Mr. Clarence O. Harrison, in years gone by a citizen of Weimar, married to a Weimar girl and well and favorably remembered by many of our people died in Houston Sunday morning and the remains were brought to Weimar on the noon train Monday and laid to rest in the Masonic Cemetery here, Rev. W. L. Hightower, local Methodist pastor, officiating. His death, we understand was the result of a paralytic stroke.
Pall bearers were as follows: Messrs. R. H. Nowell, W. C. Lyons, C. R. Havis, Earle Brown, R. A. Choats and t. H. Havis.
Mr. Harrison was manager of one of the Nowell stores in Houston. In respect to his memory Mr. Nowell closed both of his stores and proprietor and all employees attended the funeral.
Clarence Harrison, a son of W. J. and Fannie Harrison was born at Hackberry, Lavaca county, Aug. 24, 1879. He was happily united in marriage to Miss Angie Townsend of Weimar July 29, 1902. To this union was born one son, Quinn, who with the widow are the survivors. Clarence also is survived by a sister, Mrs. W. S. Hennesy of San Antonio, and two brothers, Robert of Eastland, Texas and Guy of Legion near Kerrville.
Decedent united with the Christian Church at the age of 15 years. He lived in Weimar for a number of years being connected with the W. C. Munn store and afterward going to Houston where he again served with the W. C. Munn company. For a time he was connected with a big business enterprise in Tampico, and if our memory does not fail us, it was while down there that he suffered his first paralytic stroke. Later, we understand, he had another stroke, and a final or third stroke, in Houston Sunday morning. The final stoke came upon him suddenly and unexpectedly. Our information is that he worked even up to Saturday night.
Clarence Harrison was a man of engaging personality. He was a fine business man, a valuable adjunct to those firms employing him, and he ever stood high in the estimation of those who knew him. His death is sincerely deplored.
Our heartfelt sympathy goes out to his bereaved ones.
People From Other Places Attend Funeral
Among those from a distance attending the funeral of Mr. Clarence O. Harrison in this city last Monday afternoon were Mrs. J. J. Townsend, Mrs. Dona Koenig and son, Joseph, Mr. and Mrs. J. E. Hines and son, J. E., Mr. and Mrs. W. B. Lowrey, Jr., Mr. and Mrs. K. H. Lowrey, Mrs. Alonzo Hamel and son all of Houston; Mrs. W. E. Mitchell of San Antonio; Mr. and Mrs. W. T. Morrow, Mr. and Mrs. Frank De Monbrun, Mrs. R. H. Nowell, Mrs. H. B. Swetland, Mrs. C. R. Havis, Major Towry, Miss May Lindsey, Miss Maud Hope, Miss Ann Moreno, Miss Choats of Houston and others whose names we can not now recall. In addition to the foregoing should be added the list of pall bearers all from Houston.
Weimar Mercury, September 15, 1933
Transcribed by Judy Talkington
Harrison, Clarence Quinn
C. Quinn Harrison to Be Buried Here
Graveside services for C. Quinn Harrison, 60, of Houston, will be held at Masonic Cemetery here Thursday, May 14, at 1 p.m., after morning services in Houston.
He was a native of Weimar but had lived in Houston most of his life. He died Tuesday afternoon at his home.
Survivors are his wife, Mrs. Ann M. Harrison of Houston; two daughters, Mrs. Anne H. Smith of Houston and Miss Beth Harrison of Dallas; one son, Stephen Quinn of Houston; and three grandchildren.
Weimar Mercury, May 14, 1964
Harrison, Dorothy (Webster)
Funeral services for Mrs. Dorothy W. Harrison of Houston were held at Columbus-Day Funeral Home Sunday, with The Rev. Wallace Scultz officiating. Interment was in Odd Fellows Rest Cemetery.
Mrs. Harrison, mother of Dittman Harrison of Alleyton, passed away Friday in Houston. She was 80 years of age.
She was born June 6, 1899 in Massachusetts, the daughter of Mr. and Mrs. George Webster.
Her husband preceded her in death in November, 1975.
She was a member of Methodist Church and a life member of P.E.O. She had resided in Houston since 1931.
Survivors include one daughter, Mrs. Pricilla Ann Clardy of Chatham, N.J.; two sons, Dittman "Ditt" Harrison of Alleyton and Robert A. Harrison of Houston; two sister, Hazel P. Webster and Gladys Estes, both of Massachusetts; 11 grandchildren; and numerous nieces and nephews.
Pallbearers were Robbie Harrison, Will Clardy, Lynne Hartfield, Robert Chase, W.H. Harrison Jr., Bobby Clardy and Hines Harrison.
Honorary pallbearers were C.K. Taylor, Earl Hartfield, Sam Johnson and W.H. Harrison Sr.
Colorado County Citizen, May 8, 1980, page 2
Transcribed by Laurie Albrecht
Harrison, Edna (Helmcamp)
Edna Harrison Funeral Services Slated Sept. 14
Edna Harrison, 96, of Weimar, died Sept. 10 in Schulenburg. Funeral services are scheduled at St. Michael Catholic Church on Thursday, Sept. 14, beginning with a viewing at 9:15 a.m., Rosary at 10 a.m. and funeral mass to follow. [Intermentin St. Michael's Cemetery]
She was born Oct. 3, 1909, in Sedan to William Helmcamp and Bertha Rainosek, and the older of six children.
Throughout her long life, Ms. Harrison was always strong, independent, and hardworking.
She mastered many roles cooking, cleaning, picking cotton, and caring for her siblings beginning at age 12 when her mother died.
When she reached adulthood, she moved to Houston speaking only German.
She worked as a waitress on the nightshift in a downtown café where she quickly learned English.
Her husband, Dewey, served in World War II and worked. many years as a security guard at the Port of Houston.
When he died, Ms. Harrison moved to San Leon where she continued to work as a waitress then began offering her talents as a housekeeper.
She moved back to her hometown in the early 1970s after her father died at the age of 93.
Ms. Harrison continued to clean houses and take care of ailing friends and neighbors well into her 80s.
She always had a vegetable garden growing and her yard was always filled with flowers, especially roses-lots and lots of pink roses.
Ms. Harrison loved to cook and bake. Her specialties included many vegetable dishes, oatmeal raisin cookies, apple strudel, banana pudding, and home baked bread.
Theresa Ann's two "citified" sons were always ready for a home-cooked Sunday meal at Aunt Edna's.
When Ms. Harrison's health began to fail, her Mechanic Street neighbors rallied and watched out for her.
She is survived by her brother, Leon Helmcamp and his family in Houston.
She is also survived by her niece, Theresa Ann (Seegers) Parker and her family in Missouri City, as well as several nephews and one other niece.
She is preceded in death by her husband, Dewey Harrison; brothers, Robert, Herbert and Alfred H. Helmcamp; and sister, Florene Cernoch.
Memorial contributions may be made to St. Michael Catholic Church.
Weimar Mercury, September 14, 2006, page 2A
Harrison, Edward Sandmeyer
MR. EDWARD S. HARRISON
The death of Mr. Edward Sandmeyer Harrison occurred at the Legion hospital Tuesday night, following a several months illness. Funeral services will be held at the First Baptist Church here this afternoon at four o'clock, Rev. Wm. D. Wyatt officiating.
Mr. Harrison was born in this city in 1889 and moved to Palacios with his parents. He was a World War veteran. He underwent an operation at Base Hospital Fort Sam Houston in February this year, later going to the hospital at Legion.
He is survived by one brother, Dr. R. Henry Harrison of this place, and one sister, Mrs. J. E. Wassmann of Long Beach, Calif., to whom the sympathy of this community is extended. [Interment in Columbus Odd Fellows Rest]
Colorado County Citizen, October 19, 1933, page 1
Harrison, George Little
MEMORY OF COLUMBUS HERO TO BE HONORED
College Station,Texas, Feb. 20.--When the Agricultural and Mechanical College of Texas pays formal tribute to the memory of her two score sons who fell in the world war with special memorial exercises on the afternoon of Sunday, March 2, prominent on the list of heroes whose names will be read from the college honor rool[sic] will be that of Capt. George Little Harrison, ex--'08, son of Dr. R. H. Harrison of Columbus, who was killed in action in France in July 1918.
Capt. Harrison was attached to the field artillery at the time of his death. [Place of interment not known]
Parents of the deceased have been invited to attend the memorial exercises, for which an attractive program has been prepared, as guests of the College.
Colorado Citizen, February 21, 1919, page 1
Harrison, Jennie (McCausland) Chinn
FORMER RESIDENT BURIED HERE MONDAY AFTERNOON
The remains of Mrs. Jennie McCausland Chinn Harrison of Houston, who died in that city Sunday morning, were brought here for interment in the Odd Fellows Cemetery Monday afternoon, Rev. J. E. Stack, Baptist pastor, conducting the funeral services. Mrs. Harrison was the aged mother of the late H. W. Chinn, and was one of the most lovely characters that we ever knew. Highly accomplished in music, art and book lore, it was a pleasure to be around her. Leaving here a few years ago she resided in Houston up to the time of her death. Many Weimar friends deeply regretted to learn of her demise. From the Houston correspondence of the Galveston News we glean the following particulars regarding her life:
---
Houston, Texas, Oct. 27.--Mrs. Jennie McCausland Chinn Harrison, aged 90 years, a third cousin of Sir Walter Scott and the daughter of General Robert McCausland of Louisiana, who was a commander during the revolutionary war, died about midnight last night at the home of Mrs. H. W. Chinn, 2216 Genesee street, a daughter-in-law. One son, W. S. Chinn of Abilene, seventeen grandchildren and fifteen great-grandchildren are among the survivors. Mrs. Harrison had resided in Texas forty six years, having been born and reared in Louisiana. For the past eleven years she lived in Houston, and previous to that resided at Brazoria, Belton and Weimar. The body will be sent to Weimar by the C. J. Wright Company for burial.
Weimar Mercury, November 1, 1918
Harrison, Lillie Virginia
Death has claimed for its own the bright, the beautiful little daughter of Mr. and Mrs. J. J. Harrison. Lillie Virginia died last Tuesday night, of pneumonia, aged six months. She was a perfect fairy of love and sweetness, and her bereaved parents have the sympathy of all in their loss. Her remains were deposited in the Odd Fellows' Cemetery at half-past three yesterday afternoon, in the presence of many relatives and sorrowing friends.
Colorado Citizen, March 11, 1886, page 3
Harrison, Margaret Elizabeth (Maret) Best
Harrison, Dr. R. P.
WEIMAR LOCAL MATTERS
Dr. R. P. Harrison, an old citizen of this county, who moved to Flatonia several years ago, died in that city the 15th instant. Dr. Harrison was very old, has been a devoted minister of the Gospel in the Methodist Church, died as he had lived with the whole armor on. He was the father of C. W. and Henry Harrison, of this place.
Colorado Citizen, September 24, 1885
Harrison, Riss
Weimar Local Matters
Riss Harrison, colored, an old family servant of Mr. and Mrs. A. B. Rodgers, died of congestion one day last week. She had many warm friends among both white and black. She died as she had lived, a conscientious, upright Christian, with the whole armor on. [Place of interment unknown]
Colorado Citizen, October 21, 1886
Harrison, Robert Henry
News of the death of Dr. R. H. Harrison, Sr., of Columbus, which occurred at the family residence in that city Tuesday night at 9 o'clock, was received here with many expressions of sincere regret No physician in Texas was better known or had more friends. He was fine physician, ranking with the best in the south, a gentleman of the old time southern type, and one whom to now was to esteem. In his death Texas has lost one of its most valued citizens and physicians. Our sincere and heartfelt sympathy goes out to the family in the loss they have sustained. [Interment in Odd Fellows' Rest]
Weimar Mercury, October 21, 1905, page 4
Harrison, Roseanne Violet (Stephen)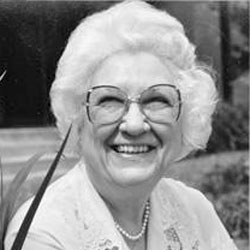 Rosanne Stephen Harrison
Rosanne Stephen Harrison passed away peacefully at age 93, Tuesday, September 8, in Eagle Lake.
She was born October 6, 1915 in Richmond, Texas.
She is survived by her loving husband of more than 70 years, Wm. H. Harrison; and by daughters, Randa H. Simmons and husband, Jim; Bettie H. Hankamer and husband, Earl; Rosanne H. Pollard and husband, Gerald; and by son, Wm. H. Harrison Jr. and wife, Margo. She is also survived by 11 grandchildren, Anna W. Gertson, John Wegenhoft, Randa H. Wegenhoft, Stephanie S. Rainosek, Karen H. Horne, Joanna Hankamer, Heather H. Consoli, Elizabeth Henna, Patricia H. Rowe, Wm. H. (Billy) Harrison III and Leslie H. Phillips. She is further survived by 16 great-grandchildren, and by numerous cousins, nieces, nephews and friends.
Rosanne graduated from the Rice Institute (now Rice University) in 1937 with a degree in Fine Arts.
She married Wm. H. Harrison in 1938, and wanting to "raise their kids in the country", moved in 1948 to the family ranch near Alleyton.
True to her "Baptist upbringing", Rosanne was for many years a Bible study teacher at South Main Baptist Church, Houston; First Baptist Church, Columbus; and First Baptist Church, Eagle Lake. She was a Past Regent of the John Everett Chapter of the Daughters of the American Revolution (DAR), a Life Member of the Magnolia Homes Tour, and Life Member of the Colorado County Fair Association. She played a significant role in the research and writing of the Colorado County Chronicles published by the Colorado County Historical Commission in 1986.
Rosanne was actively involved in the Eagle Lake Study Club, Civic Garden Club, and the Prairie Edge Museum as well as projects such as the compiling of A History of Eagle Lake, Texas published in 1987, and the design and development of Harrison Park. She and husband Bill traveled the world together, visiting every continent. Her love of bridge was legendary. A member of the popular Thursday Bridge Club, she taught many, both men and women to play, and if other groups were "short a player" they knew they could call on Rosanne to fill in.
The family would like to express their sincere thanks and gratitude to a special group of ladies who for more than three years of illness provided faithful and loving care: Sandra Flowers, Pat Huckabe, Mary Aldridge, Debra Black, Arie Dabney, Hazel Mason, Detra Parker, Doretha Pope, Wilma Shorter and Erika Wright.
A memorial service and visitation reception was held Sunday afternoon at the First Baptist Church in Eagle Lake.
The family requests that memorials be given to the First Baptist Church Memorial Fund, P.O. Box 339, Eagle Lake, 77434, the Wintermann Library, 101 N. Walnut, Eagle Lake, 77434, or the Prairie Edge Museum, 810 N. Main, Eagle Lake 77434.
Sympathy is extended to the family in their loss. [Mrs. Harrison's remains were cremated.]
Eagle Lake Headlight, September 17th, 2009
Harrison, William A.
The Mercury tenders sincere condolence to Mr. and Mrs. J. J. Harrison of Columbus upon the death last Monday morning of their beloved son Will. We have known this young man from boyhood and watched his career up to the threshold of manhood with pleasure, for he was a quiet, studious, good young man and one in whom all took interest. His death has caused genuine sorrow to pervade the hearts of all friends of the family. God pity and comfort the bereaved parents, is the sincere wish of the Mercury. [Interment in Columbus Odd Fellow's Rest]
Weimar Mercury, March 30, 1901, page 2