Dick, Augusta (Reissig)
Mrs. Gus. Dick, who was so badly burned with kerosene last Wednesday, died the next day, after enduring great agony. The particulars of the accident are most distressing. She was endeavoring to light a fire in the stove, in which there were a few slumbering coals, upon which she placed some kindling wood and chips to start the fire. Wishing to accelerate it she poured upon the mass some kerosene from a can, and the blaze ran up the stream, and exploded the vessel, setting her clothing on fire. She ran to a negro working near by for aid, and he endeavored to tear off her burning clothing, but being unable to do so, threw her down in the road and covered her with sand, thus putting out the fire. She was conveyed to the house, and a physician send for, but it was too late, and no relief could be given. The lady was of estimable character, and much esteemed. The bereaved husband and children have the sympathy of the entire community, in their sad loss. [Interment in Columbus Odd Fellows Rest]
Colorado Citizen, June 23, 1881, page 3
Dick, Ben H.
By an unfortunate railroad accident last Monday at Labatte, a small station near Parsons, Kan., Mr. Ben Dick, son of Mr. and Mrs. J. J. Dick of this city, was so seriously injured that he died from the effects of it Tuesday night. Beyond the fact that he fell off and was run over by the train, we have no particulars. His remains will be removed to this city for interment. He was raised in this place, and, with all his fault—and who is without them?—he had many excellent traits of character, being industrious, kind-hearted and generous. The community deeply sympathises[sic] with the bereaved parents in their irreparable loss. [Place of interment unknow - possibly Odd Fellows Rest]
Colorado Citizen, August 6, 1891, page 3
Dick, Gustave Conrad
Columbus, Texas, December 24.--Mr. Gus Dick, a prosperous planter, died about 5 o'clock this afternoon after a few days' indisposition. He was a man of public enterprise and generous disposition; had many friends and no enemies. He was a member of the Order of Odd Fellows, Herman Sons and several other lodges. His wife, his mother, Mrs. Gerhardt Dick; his brother, Mr. Leon F. Dick; his son, Gus Dick, Jr., of Galveston and three younger children survive him. [Interment in Odd Fellows Rest]
Weimar Mercury, December 30 1899
Death of Gustav C. Dick.
Universal regret was experienced by our citizens last Sunday evening when the news of the sad and sudden death of Mr. Gustav C. Dick, a useful and respected citizen of Columbus, was made known. His death resulted from an overdose of morphine, inadvertantly [sic] taken to alleviate a temporary predisposition to insomnia, which prevented his enjoying sleep. He was an energetic, enterprising and useful citizen – belonging to that class calculated to build up any community in which they resided. He was liberal, generous hearted and most charitable, and his hand and purse were always open to distress in whatever form. He was universally esteemed in this section, and had many friends in the adjoining counties and different parts of the state, who will hear of his death with sincere regret.

Augustus Conrad Dick was born in Cologne-on-the-Rhine, Germany, Nov. 4, 1848, immigrated with the family to the United States in 1849, settling in Shelby, Austin county; was married to Miss Augusta Reissig in 1869, who died in 1885, leaving three children, Gustav, Ernst and Otto, Gustav being the only survivor. In 1886 he was married to Miss Louise Reissig, by whom he had three children – Harry, Alma and Walter – all of whom survive. He has resided in Columbus about twelve years.

At 4 o'clock Christmas day the remains of the deceased were laid to rest in the city cemetery, Rev. T. B. Lawson of the Episcopal church officiating at the residence, and, under the auspices of the Odd Fellows, assisted by members of the K. of H., O. D. H. S., National Fraternity and Woodmen of the World – of which societies he was an exemplary member – the obsequies were sorrowfully concluded. Deceased leaves a wife and four children, a venerable and loving mother, and other relatives and numerous friends to mourn his untimely demise, whom the Citizen joins in sincere condolence. – Colorado Citizen.
Schulenburg Sticker, 4 Jan 1900, page 1
Contributed by Matt Cross
Dick, Harry L.
The Tragic Death of Mr. Harry L. Dick
The shocking news was received here last Thursday night of the death at China (near Beaumont) of Mr. Harry L. Dick of this city The news was so blunt, abrupt and unexpected that our people could scarcely realize that Harry Dick was dead. Harry had been visiting his aunt, Mrs. I. D. Craig, in Beaumont. He left Beaumont Thursday morning, going to China, where he expected to go to work on a rice farm,but evidently changed his mind, and concluded to come further west. About 5:10 p.m. he endeavored to board a westbound freight train, but missed his hold, fell beneath the train and both legs were crushed to a pulp from the hips down. He was immediately placed upon a passenger train and hurried to Beaumont, but reached that city in a dying condition. A waiting ambulance made a quick run for the hospital, but Harry died just as the hospital was reached.
Harry was born, raised and educated in Columbus, where everybody knew and liked him. He was very clever, kind and generous hearted. In November next he would have been 21 years old and would then have come into possession of his share of the estate of his late father, Gus. Dick. Harry gave great promise of becoming a man that would make his mark in the world, as he came from that kind of people--the best in the world and it is truly a pity that he was so ruthlessly swept out of the world.
To mourn his untimely demise are Miss Alma Dick (sister) Gus and Walter Dick (brothers) Leon F. Dick (uncle) besides unnumbered other relatives and friends.
Accompanied by his aunt, Mrs. I. D. Craig, the remains were conveyed to this city on the westbound passenger train last Friday afternoon. Messrs. James Wooten, Laing[sic] Youens, Ed Matzke, Jr., James Kirby, Seth Little and Leo Laake, the active pall bearers, tenderly bore the casket from the depot to the home of Judge J. J. Mansfield just across the street, where at 4:30 the funeral services were conducted by Rev. Wm. Hart of Houston, rector of St. John Episcopal Church of this city. The honorary pall bearers were: Judge Mansfield, Hon. J. R. Wooten, S. K. Seymour, H. J. Laas, Sam Hamburger, E. A. Hutchins, W. S. Miller, L. D. ____w, S. H. Simpson, O. A. Zumwalt, Leo C. Ayars, George Gegenworth, Prof. C. K. Quin, W. H. Schultz. Interment took place in the family burial lot in the City Cemetery where a host of sorrowing relatives and friends gathered to pay their final respect to the departed dead. After a short service by Rev. Hart the coffin was lowered. A profusion of rich, rare and beautiful floral tributes covered the grave.
The Citizen offers its most heartfelt sympathy to the bereaved.
Colorado Citizen, September 17, 1908
Dick, Hattie May (Everett)
Mrs. W. G. Dick Dies at Age 74
Mrs. Walter Gresham Dick, one of Columbus' most prominent women, died Monday in Columbus Hospital.
Her death at 74 ended more than 4 decades of service to her community and to the National Society of the Daughters of the American Revolution (D.A.R.)
Funeral services were scheduled 3 p.m. Wednesday from the First Baptist Church, with the Rev. Gus Prince officiating. Burial was to follow in Odd Fellows Rest Cemetery, with Columbus Funeral Home in charge.
Mrs. Dick was a devoted servant of the D. A. R. , serving in a host of local and national offices during more than 50 years of active membership. This was in addition to her service to the community in appointive and elective posts.
She was born Sept. 10, 1900 at Alleyton, a daughter of Annabell Neal and James John Everett. A maternal descendant was Abraham Alley, one of Austin's original 300 colonists. Her paternal grandfather was Capt. H. C. Everett of the Confederate army who settled at Alleyton after the War.
She married Walter G. Dick of Columbus in 1922.
Mrs. Dick joined the D.A.R. in 1921 as a junior member, thus beginning more than 40 years of dedicated D.A.R. service which included a number of local, state and national offices.
Mrs. Dick, known to many as Hattie May, served as vice president general, national chairman of Constitution Week, reporter general to the Smithsonian Institution, and as state chaplain, historian, parliamentarian, vice regent and regent.
She served on the D.A.R. steering committee for the U.S.A. bicentennial from 1967-1970. National vice chairmanships included D.A. R. Magazine.
A lifelong resident of Colorado County, she has figured prominently in the development of her community.
She taught high school English and history following her graduation from the University of Texas.
She led a drive to build and finance the public library, served 4 years on the city council as its first woman member, was a director of the Columbus State Bank and was he first woman ever named foreman of a grand jury in Colorado County.
In 1955, Mrs. Dick ws named "Woman of the Year" by the Columbus Chamber of Commerce.
She was instrumental, also, in establishing the Colorado County Historical Survey Committee which she served as chairman and in the establishment of the county archives.
Mrs. Dick represented her county in 1936 on the Texas Centennial Committee, and as a Baptist, served as president of the Woman's Missionary Union 12 years.
Survivors include her mother, Mr. J. J. Everett of Alleyton; 2 daughters, Mrs. R. F. Rau of Columbus and Louise Dick of Washington, D. C., and 2 sisters, Mrs. Laura Brasher and Mrs. Margaret Griffith.
Pallbearers ere Leroy Stein, J. D. Seymour Jr., Sam K. Seymour III, Neville Miekow, John M. Brasher. James E. Brasher, Gregg West and David Holler.
Colorado County Citizen, September 26, 1974
Submitted by Laura Ann Rau
Dick, Jacob J.
From the Citizen of th_____ learn of the death of Mr._______ an old and respected citizen of Columbus. Mr. Dick was in our town a few weeks ago, and while ________ing at that time of feel_____ neither of us realized that ______ so near. Mr. Dick was a ________ an honest man, a good neighbor____ one whose good deeds were ___ but seldom referred to by h_______ stricken family, so suddenly______ husband and father, the ________ and condolence of the Mercury is extended.
Weimar Mercury, December 9., 1905
[The underlined portion was cut off of the paper. The Citizen for that time period is missing. DA]
Columbus, Dec. 6--Mr. Jacob J. Dick died at his home in this city sat[sic] night. He was born in New Orleans December 26, 1835. He moved to Columbus in 1860, and made a splendid record as a soldier with Green's brigade during he civil war. He was married in 1866 to Miss Susan Campbell, who with four daughters, survive him. The funeral was conducted form the fmily esidence to the city cemetery at 4:30 this afternoon, by Rev. G. W. Parker of the Baptist church and the Caledonia lodge of Masons, of which fraternity Mr., Dick was a member of long standing.
Weimar Mercury, December 16, 1905, page 6
Dick, Jacob Jerome
We sincerely sympathize with Mr. and Mrs. J. J. Dick in the loss of their infant son, JACOB JEROME, yesterday. But the little fellow is happier than if with them, and their loss is his gain. they have an interest now in that land that is fairer than this, and their little ones re waiting for them on the shining shore. [Place of interment unknown]
Colorado Citizen, July 21, 1881
Dick, Joseph F
COLUMBUS CULLINGS
Last Thursday Joseph F. the twelve-year-old son of Mr. and Mrs. J. J. dick of this city, in company with about a dozen boys of about the same age, was playing on a hand-car near the residence of Constable Crawford, when Joe attempted to board the cr as it was running, but by some mishap missed his footstep, fell on the track,between the wheels, and the flesh of his leg from knee to hip was cut ___ close to the bone, the shock to nerves and loss of blood resulting in death about 1 o'clock Saturday afternoon. He was buried at half-past 12 last Sunday in presence of a large number of friends of the family, Rev. M. S Hochkiss officiaiting. The family have the sympathy of all in their sad bereavement. [Place of interment unknown]
Weimar Mercury, January 17, 1889
Dick, Josephine (Bogen)
Columbus, Dec. 4. Mrs. Josephine Dick died at her residence in this place today, after an illness of several months, and the remains were interred at the City [Odd Fellows] cemetery at 4 o'clock this afternoon. The deceased was the survivor of the late Reinhardt Dick, who died here in the year 1888. She was born in Cologne, on the Rhine, Germany, on the 4th of October, 1822, and had she lived one day more, would have been 81 years and 2 months old. She came to America with her husband in the year 1848, at a time when the political affairs of Europe were in an unsettled and turbulent state, first landing in Galveston, afterwards removing to Austin county, then to Colorado county, where she has continued to live the past thirty years and until the time of her death. She was a lady of wealth, culture and refinement, and for many years past has been a communicant of the Episcopal church, in accordance with the impressive ceremonies of which her remains were today interred, the Rev. T. J. Wyndham of Richmond officiating. The deceased was the mother of five children, town of whom, Leon F. Dick of this place and Mrs. I. D. Craige of Beaumont, survive her, the others being dead. She was a woman of great popularity, as was shown by the concourse of people in attendance upon the funeral and by the profusion of flowers, ferns, and other tokens of sympathy donated.
Weimar Mercury, December 12, 1903
Submitted by David Hahn
Dick, Leon Franklin
One of Columbus' Most Prominent Men Is Claimed by Death
Many friends throughout this section were saddened Thursday of last week when they learned that Mr. Leon F. Dick, one of Columbus' most prominent men, had been claimed by death, following a long illness. The funeral took place Friday afternoon at 4 o'clock at the Odd Fellows' Rest west of. Columbus.
The funeral was largely attended by people from all over South Texas. Rev. T. J, Windham, Episcopal minister of Houston and former Columbus citizen, officiated at the home and grave, being assisted by the Masonic fraternity, of which deceased had long been a prominent member. Many members of the Weimar Masonic lodge went down to pay last respects to this worthy citizen, friend and brother.
Mr. Dick had been in a Houston hospital for a number of weeks under treatment. His trouble was known to be serious, and from the first very little hope was held out for his recovery, He gradually declined until It was thought advisable to bring him home, and this was done about ten days preceding his death.
Although expected. his demise caused a veil of sadness to permeate the hearts of hundreds of friends throughout South Texas, for Leon Dick was well and favorably known throughout a large section of our fair state. He was a man of commanding presence, genial personality, a hearty greeting for everyone he met, and a man who under any and all circumstances It was a pleasure to meet.
The writer knew Leon F. Dick from early boyhood on up to the time of his death, and for him always entertained a warm admiration. He was a man among men, a man whose friendship, unswerving and true as steel, we always cherished. In his death we feel that we truly have lost one of our oldest, best and truest friends.
Leon F. Dick was 77 years of age at time of death, He was born at New Ulm, and moved to Columbus at an early age. As a young man he was a traveling salesman for Louis H. Blum & Co. of Galveston, and later for Marx & Blum of same city. He was very successful as a salesman and In his younger days acquired quite a competency.
He is survived by one sister, Mrs. Selma Craig of Beaumont; five nephews Gus Dick of Galveston, Walter Dick of Alleyton, A. W.. Willie and Eddie Rau of Columbus: two nieces, Mrs. R. H. Gillette of Port Arthur and Mrs. Josie Rose of Dallas.
Our heartfelt sympathy goes out to his bereaved ones.
Weimar Mercury, August 7, 1931, page 1
Dick, Lillian Louise
The CITIZEN regrets to record the death, on the 8th insant, of little Lillian Louise, infant daughter of Mr. and Mrs. J. J. Dick, age 20 months and 5 days. Her remains were committed to dust at half-past four last Saturday, there to await the call of Him who commanded: "Suffer little chilfren to come unto me and forbid them not, for of such is the kingdom of God." [Place of interment unknown]
Colorado Citizen, November 13, 1890, page 3
Dick, Louise
Former NASA Officer, Louise Dick, 60, Dies
Louse Dick, 60 a retiree public affairs officer at the National Aeronautics and Space Administration, died of a hart ailment May 7 at her home in Washington.
Miss Dick was born in Columbus, Tex., and was graduated from the University of Texas in Austin She came to Washington in 1947 as an assistant to Rep. Clark Thompson (D-Tex.) She joined NASA in the early 1960s and retired in 1975. She is survived by a sister, Laura Moran Rau of Columbus. [Interment in Odd Fellows Rest]
Washington Post. May 12, 1985, D6
Dick
Funeral service were held for Louise Dick, 60, on Friday, May 10 at graveside in Odd Fellows Cemetery in Columbus. The service was conducted by Brother Raymond Cox of The First Baptist Church of Columbus.
Louise Dick was born on November 2, 1924, the daughter of Walter G. and Hattie May Everett Dick. She spent her childhood in Alleyton and Columbus, graduating from Columbus High School in 1941 and from The University of Texas in Austin in 1945.
For ten years she was administrative secretary to Congressman Clark W. Thompson of Galveston, leaving that office in 1956 to join the newly - formed National Aeronautics and Space Administration as one of the first Public Information Officers. In this capacity she dealt directly with the various media, participating in many of the earliest space missions. She attended international space conferences and contributed news articles for space publications. She held this position until her early retirement because of ill health.
Survivors are one sister, Laura Ann Dick Rau of Columbus, two aunts, Laura Everett Brasher and Margaret Everett Griffith, both of Columbus and many other relatives and friends.
Colorado County Citizen, May 23, 1985
Dick, Otto L.
The Citizen records, with sentiments of regret, the death of its young friend Otto Dick, son of Mr. Gus Dick of this city. He died last Tuesday in St. Louis, as a dispatch received by his father yesterday announces, giving no further particulars. Otto was universally popular, an honest, manly young man of about 21, and his untimely demise causes universal regret in this community, where he was raised, loved and admired for his many excellent traits of character. His remains are on the way here for interment, will probably arrive tomorrow. To the stricken parents and other relatives we tender heartfelt sympathy. [Buried in Odd Fellows Rest Cemetery]
Colorado Citizen, September 12, 1895
Dick, Reinhard
The CITIZEN announces with regret the death of our old and respected citizen, Mr. Reinhardt[sic] Dick, who departed this life at his residence in this city last Sunday morning at 9 o'clock. Deceased was born on the Rhine at Cologne, Germany, in 1814, was married there in 1848, came to the United States and settled in Colorado county in 1849, afterwards removing to Austin county, where he resided several years, when he returned with his family to Colorado county, where they have since resided. He has been afflicted for six months past, the typhoid pneumonia first attacking him, followed by the dropsy. He leaves a wife and four children--Gus, the eldest, Mrs. Bertha Rau, Leon F., and Mrs. Selma Craige--to mourn their irreparable loss. In his native land Dick adopted the profession of law, which he practiced until he immigrated to America. He was a fine scholar, a man of extra vigorous mind, with very pronounced and positive views, yet quiet and unobtrusive in their expression, and was a law-abiding, good citizen. His remains were committed to the dust in the city cemetery at 10 o'clock last Monday morning, in the presence of many friends and sorrowing relatives, the Rev. M. S. Hotchiss[sic], pastor of the Methodist church in this city, officiating. Peace to his remains.
Colorado County Citizen, August 9, 1888, page
Dick, Susan Ann (Campbell)
Mrs. Susan A. Dick
Mrs. Susan A. Dick passed out of this life at her home in the west part of the city yesterday morning at six o'clock, following a long period of ill health.
Funeral services were held at the residence this (Thursday) morning at ten o'clock, Rev. Wm. D. Wyatt of the First Baptist Church officiating, and interment was made in Odd Fellows Rest.
Miss Susan Ann Campbell was born in Montgomery County, Texas, March 9th, 1847. She was married to Mr. J. J. Dick here on February 20th, 1866. Since a few months after their marriage she has lived in the same house in this city until death. Mr. Dick, who was a Civil War veteran, preceded her to the grave in December 1906.
Mrs. Dick is survived by four daughters, Mrs. Mattie Wooldridge of Oakland, Miss Jonte Dick and Mrs. Elma Miles of this city and Mrs. Frances Grunewald of Holman, Fayette County, two granddaughters, two grandsons and one great-grandson, also one sister-in-law, Mrs. Alice Campbell of Houston, to whom the sympathy of the entire community goes out in their great loss.
Colorado County Citizen, October 6, 1932
Attend Funeral Here
Those attending the funeral of Mrs. J. J. Dick from out of town were Mr. and Mrs. T. J. Wooldridge and daughter, Tommie, of Oakland, Mr. and Mrs. F. F. Grunewald of Pecan, Mrs. Alice Campbell and Mrs. Bettie Conn of Houston, Mr. and Mrs. Anton Kahanek of Swiss Alp, Mr. and Mrs. Fred Steffek and daughter, Elsie, of Holman, Miss Lilie Kahanek of Pecan, Mrs. Ione Allen, Mrs. Jimmie Gray and Mr. Lee Campbell of Houston.
Colorado County Citizen, October 13, 1932
Dick, Susan Jonte
Funeral Services For Miss Susan Dick, 76, Held Wednesday
Funeral services for Miss Susan Jonte Dick, 76, were held Wednesday afternoon, Feb. 24, at Hubbard Funeral Home, Rev. Walter J. Cartwright officiating.
Burial was in Odd Fellows Rest cemetery at Columbus.
Miss Dick entered Youens Hospital here Monday morning and died the following morning at about 5 o'clock.
She had made her home here with her sister, Mrs. F. Grunewald, since the death of their mother 22 years ago.
Surviving also are two other sisters, Mrs. T. J. Wooldridge of Eagle Lake and Mrs. Elmer[sic] Miles of Weimar. Other survivors include two nieces, Mrs. Hazel Havens of Houston and Mrs. Tommie Neiswander of Eagle Lake; a nephew, Milton E. Miles, serving with the armed forces in Japan; and several grandnephews and nieces.
Weimar Mercury, February 26, 1954
Dick, Walter Gresham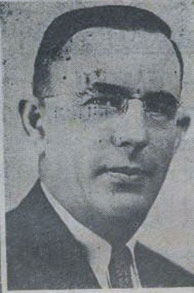 W. G. Dick Dies;
Civic Worker And Businessman
Walter G. Dick, 64, a prominent businessman and civic worker in Columbus many years was laid to rest in Odd Fellows Rest cemetery Monday after services at St. John's Episcopal church, of which he was a member.
Rev. Calvin Sachers officiated at the services.
Mr. Dick died Saturday about 6:15 p.m. in Columbus hospital, which also was one of his favorite institutions in Columbus and which he served as a director. He was also a member of the vestry of St. John's.
Mr. Dick had suffered with heart trouble for some time and was stricken seriously Jan. 22 while at work at his trailer park.
He was a director of Columbus State Bank, was a former president of Columbus Chamber of Commerce and a former commander of the American Legion. He served in World War I as a lieutenant with the Rainbow division. He retired as bulk agent for Humble Oil and Refining Co., a few years ago.
Surviving are his widow; 2 daughters, Mrs. Joe Moran and Miss Louise Dick, both of Washington, D.C.; a sister, Mrs. Alma Gillette of Columbus; a brother, Gus Dick of Galveston; 2 nephews and a niece.
The family requested, before the funeral that no flowers be sent, but that, instead, donations be made to Columbus Hospital.
Pallbearers were J. D. and Sam K. Seymour, W. H. Miekow, E. G. Miller, T. W. Glithero, T. T. Clark, Tommy Zeiner and Dudley Baker.
The Colorado Citizen, February 4, 1960
Transcribed by Jennie Muggli