Blair, Dwyne Ray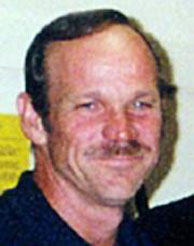 Blair
Dwyne Ray Blair, 49, of Columbus, passed away Dec. 19 at Columbus Community Hospital.
He was born Jan. 29, 1955 to Johnny and Leona (Steinhauser) Blair and worked as a mechanic for Allied Materials.
He was preceded in death by his father; brother, Richard Blair; and step-father, Leon Drymalla.
He is survived by his mother, Leona Drymalla, of Columbus; daughter, Whitney Blair, of Cedar Creek; son, Patrick Blair, of Arlington; sister, Martha Mikulenka, of Columbus; brothers, Tommy Blair and John Blair, both of Columbus and Nathan Blair of Round Rock; and grandson, Jake Blair, of Arlington.
Graveside services are scheduled for 3 p.m. Sunday, Jan. 2, at Odd Fellows Rest Cemetery in Columbus with the Rev. Sammy Carr officiating
Colorado County Citizen, December 29, 2004
Courtesy of The Citizen
Blair, Elmer David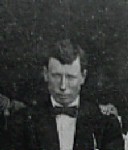 An Honored Citizen Is Claimed by Death
Mr. Elmer David Blair was born March 4th, 1874, in the Osage community and lived in said community up to the time of his death, at which time he was sixty-two years, three months and twelve days of age.
He was married to Miss Florence Graves of Osage Nov. 28, 1895. To this union were born three children -- Lester, who died when four years of age, Howard and Agnes.
Deceased in early manhood became a member of the Methodist Church of Osage and remained an active member of said church until he died. He was at all times a leader in church and community work.
He leaves to mourn his passing his widow, his son, Howard of McKinney, Texas, his daughter, Mrs. John Janak, Jr., of Weimar, two brothers, J. A. and Z. W. Blair of Houston, two sisters, Mrs. W. H. Connell of Houston and Miss Pearl Blair of Waller; two grandsons, one granddaughter, besides scores of close relatives and friends.
Interment was under direction of the direction of the Hubbard Undertaking Company in the Osage Cemetery, Wednesday, June 17, with Rev. W. L. Hightower, pastor, officiating, assisted by Revs. Jno.. R. Campbell and J. H. E. Willmann. Active pall bearers were nephews of the deceased --J. F. Taylor, Waddell Blair and B. C. McConnell of Houston, A. M. Taylor and Sam Garrett of Patterson and Lee Graves of Eagle Lake. There was a large delegation of friends in attendance at the funeral and the many beautiful floral offerings attested to the esteem in which Mr. Blair was held by his many friends.
Elmer Blair was well and favorably known throughout this section, where his entire life had been spent. He was a man true to his family, his church, his community, his friends, true to everybody and everything. His character throughout life was without reproach, and it would be hard to find a man whom the people held in higher esteem than he. He lived the simple life, his efforts being confined to farming, but he lived such a life that he always had the respect and esteem of his friends and neighbors, and when we possess that we feel that life has not been in vain. A good many had gone from among us, and in his passing we drop the tear of sympathy with his bereaved ones, with the hope that the Father of us all will comfort them in the terrible loss that they have sustained.
___
Relatives from a distance who were here last week to attend the funeral of the late E. D. Blair of Osage community included Mr. W. W. Blair and family, Mr. J. A. Blair and son, Mr. W. H. McConnell and family, Dr. John E. Parker and wife, Mr. J. F. Taylor and wife of Houston; Mr. Chas. Taylor and family and Mr. Sam Garrett, Patterson; Mrs. Lizzie Garrett, Mrs. Nellie Cliett and daughter, of Katy; Rev. Jno.. R. Campbell of Milford; Mr. Chas. Campbell of Huntsville; Mr. H. G. Blair and family of McKinney; Mrs. W. A. Trousdale and Mrs. Sam Clapp of El Campo; Mr. Lee Graves and family and Mrs. Hallie Graves of Eagle Lake; Mrs. Albert Hahn, Mrs. Wm. Paulsen, Mrs. Fay Youens, Messrs. Frank, Ned and Arthur Burford of Columbus.
Weimar Mercury, 26 June 1936
From the files of Dorothy Albrecht
Blair, Florence Neeley (Graves)
Mrs. Florence Blair Dies Suddenly of Heart Attack
Mrs. Florence Graves Blair, widow of the late Elmer D. Blair, died suddenly last Friday of a heart attack, at the home of her daughter, Mrs. John Janak, Jr., here. Funeral services were conducted Saturday afternoon, at the Hubbard Funeral Home, with interment in the Osage Cemetery. The Rev. J. L. Atkinson, pastor of the local Methodist Church, assisted by Rev. John R. Campbell of Tatum, conducted the services.
Pallbearers were J. A. Blair, E. W. Blair, W. H. McConnell, J. F. Taylor, Sam Garrett and Lee Graves.
A daughter of the late Mr. and Mrs. Emanuel Graves, Mrs. Blair was born January 22, 1877, at Osage. She was united in marriage to Elmer D. Blair on November 28, 1895. The couple spent their entire life in the Osage community. After the death of her husband June 16, 1936, Mrs. Blair made her home with her daughter, Mrs. John Janak, Jr. She was a faithful member of the Osage Methodist Church.
Survivors include one daughter, Mrs. John J. Janak, Jr., of Weimar; one son, Howard Graves Blair of Orange; a foster son, Chas. D. Campbell of Buckholts; five grandchildren, Howard Cameron Blair and Gloria Jean Blair, John David Janak, Donald Janak and Dorothy Janak; two sisters, Mrs. Frank Garrett of Katy and Mrs. Chas. Taylor of Patterson. One son Lester Blair, born Sept 4, 1896, died Sept. 16, 1900.
The Mercury extends sincere condolence to the bereaved family.
Weimar Mercury, 16 November 1945
From the files of Dorothy Albrecht
Blair, George R.
George, the 12 year-old son of Mr. and Mrs. Jas. Blair of the Osage community, died Saturday night of slow fever, and was buried Sunday afternoon in the Osage cemetery, Rev. John Styner performing the burial service. Our condolence is extended the bereaved parents.
[Buried Osage Cemetery]
Weimar Mercury, 11 February 1893
From the files of Dorothy Albrecht. Contact Rox Ann Johnson
Blair, Karissa Danielle
Blair
Karissa Danielle Blair, 2 months, of Eagle Lake died Monday, Jan. 15, 1996 at Texas Children's Hospital in Houston.'
Born Nov. 12, 1995 in Eagle Lake, she was the daughter of Gregory Kyle and Melissa Ann (Hernandez) Blair.
Funeral services were held Jan. 18 at Dulany Funeral Home in Eagle Lake with Rev. David Mann of First Baptist Church of Eagle Lake officiating. Interment followed in Lakeside Cemetery in Eagle Lake. Services were under the direction of Dulany Funeral Home, Eagle Lake.
Serving as pallbearer was Brian Todd Blair. Honorary pallbearers were David Wiese, Chris Ferguson, Mark Kucherka, Joe Lee Perez, Dr. Russell Thomas and Dr. Charles Frazer of Texas Children's Hospital's cardiology department.
She is survived by her parents and brother Kyle Taylor, all of Eagle Lake; maternal grandparents Mr. and Mrs. Daniel Hernandez and paternal grandparents, Glenda Blair and Bill Blair, also all of Eagle Lake; great-grandparents Paula Hernandez, Mr. and Mrs. G. A. Rodriguez and Mr. and Mrs. Benny Blair , all of Eagle Lake, Mr. and Mrs. Bill Craft of Gainesville, Ga. James Warren of Waco, great-great-grandmother Wilma Warren of Waco; aunt Michelle Cobia of Eagle Lake; uncles Daniel Hernandez and Michael Hernandez, both of Eagle Lake; Brian Blair of Saginaw; and other relatives and loved ones.
Colorado County Citizen, January 24, 1996, page 12
Blair, Lester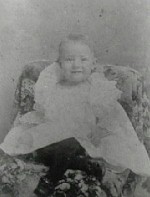 Died, at the family home northeast of Weimar late Sunday afternoon, the little son [Lester] of Mr. & Mrs. Elmer D. Blair, after an illness of only five days, of a combination of bilious fever and hemorrhage of the bowels. This bright and interesting little child was seen by the writer only a few days ago when he ran out to kiss his papa goodbye as the latter was leaving home for a few hours. Then he was the picture of health. So evident was the strong tie between the grown man and the little child that it attracted attention and comment on our part. We little knew or thought at that time that death was lurking near that happy, contented home. But God knows what is best for us, and although the temptation is strong to question his decree in this instance at least, the sorrowing hearts are bowed down and feeble lips murmur "Thy will be done." Our sincere and heartfelt sympathy is extended Mr. and Mrs. Blair in the loss of their beloved child. God pity and comfort them, is our sincere wish. The little body was laid to rest in the cemetery at Osage Monday Afternoon.
Weimar Mercury, 22 September 1900
From the files of Dorothy Albrecht
Blair, R. John
Eagle Lake Item
We regret very much to have to report another killing in the bottom below here. Last Wednesday night R. J. Blair, a tenant on Capt. Dunovant's place, about six or seven miles from town, was shot through the head with a Winchester rifle, while in bed, and instantly killed. Early the next morning Judge Ziegler had a jury summoned, and repaired to the place, for the purpose of holding an inquest. After hearing all the evidence the jury returned the following verdict: "We, the jury of inquest, being duly sworn to inquire into the death of R. J. Blair, then and there lying dead, do say, from the evidence, that the said R. J. Blair came to his death from a gun-shot wound in the head, in Colorado county, Texas, on the 31st day of March, 1887, and that said killing was done by Mary Wetherell." Mary Wetherell is the step-daughter of the deceased, and is about fifteen year old. Judge Ziegler put the bond at two hundred dollars, which was satisfactorily made at once. [place of interment unknown]
Colorado Citizen, April 7, 1887
A man by the name of John Blair was found dead in bed Thursday morning five miles from Eagle Lake. After the fact became known his step-daughter acknowledged that she did the killing. She said that he tried to outrage her, and she killed him. __Wharton Independent.
Colorado Citizen, April 7, 1887
Blair, Witney Julia Anne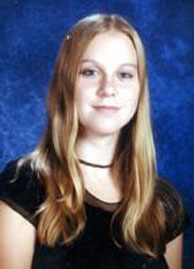 BLAIR
Whitney Julia Anne Blair, 17, of Cedar Creek, passed away in a car accident Sunday, Aug. 21. She was born Oct. 28, 1987 to Judy Beck, of Cedar Creek and the late Dwyne Blair, of Columbus.
She was attending Bastrop High School and was ranked among the top of her senior class. She was a member of the National Honor Society, the Honeybear Drill Team and the school newspaper staff. She was a published and award winning writer. She loved writing, old trucks and animals of all kinds.
She was preceded in death by her father, Dwyne Blair, and grandfather, Leon Drymalla, both of Columbus.
She is survived by her mother, Judy Beck, of Cedar Creek; brother and sister-in-law, Patrick and Tammy Blair and their children, Jake and Jenna, all of Arlington; grandparents, Laddie and Judy Supak and Leona Drymalla, all of Columbus; and many aunts, uncles, cousins and friends.
Funeral services were Thursday, Aug. 25, at Henneke Funeral Home in Columbus with Father Dan Kahlich officiating. Interment followed in St. Anthony Catholic Cemetery in Columbus.
Pallbearers were Spencer Freppon, Raymond Shuck, Jake Green, Ryan Limon, Bobby Nelon, Darrell Williamson, Stephen Bradley and Anthony O'Brien. Honorary pallbearers were Rachel Blum, Stephanie Wimberly and Alicia Beck.
Contributions may be made to the Whitney Blair Scholarship Fund established at the First National Bank of Bastrop, Attn: Margaret Hanna, P.O. Drawer F, Bastrop, Texas 78602 or call (512) 321-2561.
Colorado County Citizen, August 31, 2005
Courtesy of The Citizen