Besch, Alice
Funeral Is Held For Mrs. Besch
ROCK ISLAND--Funeral services were held at the Baptist church here Thursday afternoon for Mrs. Alice Besch, who passed away at her home Mar. 28, by Rev. Reid Gibson. Burial was in the Cheetham cemetery.
Mrs. Besch was born in Wilson county Dec. 28, 1880, and was married to Harmon Besch in 1897 and spent most of her life in Colorado county.
Two children came into the home by adoption, Mrs. Winnie Deiringh of Richmond and Alfred Besch of Winnie. Surviving are her husband, the 2 children; 5 grandchildren, C. P. Eastland and Margaret Ann Eastland of Rosenberg, Alfred Lane, Linda and Roy Lee of Dalsetta; one great-granddaughter, Cynthia Gail Eastland; one brother, Jackey Williams of Houston; one sister, Mrs. Brit Wilkerson of Grosbeck.
Colorado County Citizen, April 5, 1956, page 9
Besch, Edgar Eugene
EDGAR E. BESCH
May 3, 1911 - October 28, 1990
Services for Edgar E. Besch, 79, of Glidden were held Oct. 30 at Henneke Funeral Home in Columbus with the Rev. Raymond Cox officiating.
Interment followed at Odd Fellows Rest Cemetery in Columbus.
Besch passed away at Columbus Community Hospital on Oct. 28.
He was born May 3, 1911 in the Skull Creek Community near Rock Island to Albert R. Besch and Minnie Bottino Besch. He was united in marriage with Madlyn Wallace on Feb. 29, 1936.
Besch was a retired railroad switchman with Southern Pacific Railroad. He was a member of Glidden Baptist Church and Brotherhood of Railway Trainmen.
He is preceded in death by his parents; wife, Madlyn in August of 1960; and one brother, Earl.
Survivors include one daughter and son-in-law, Bebe and Speedy Brasher of Huffman; one son and daughter-in-law, James K. and JoCarol Besch of Columbus, four grandchildren, James Roy[sic] and Clifton Brasher, Shannon and Blake Besch; and two step-great-grandchildren, Jennifer and Jason Renfrow.
Pallbearers were Chris Shivers, Pete Besch, Charles Brasher, Fred Wallace, Bennie Brasher and Floyd Green.
Honorary pallbearers were C. C. Brasher, Sr., L. H. Barrett, Willard Westphal, Howard "Shorty" Besch, Delmar Fehrenkamp, Dick Jones and Fred Brasher.
Henneke Funeral Home Inc., Columbus, directors.
Banner Press Newspaper, November 1, 1990
From the files of Dorothy Albrecht. Contact Rox Ann Johnson.
Besch, Ernest W.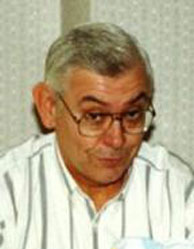 Besch
Ernest W. Besch, 59, passed away June 2, 2006 at his daughter's residence in Alleyton, TX. Born June 21, 1946 in Eagle Lake, TX and the son of Ernest M. and Louise Ripper Besch. Ernest graduated from Columbus High School and retired after 21 years with the United States Air Force as a TSgt. He began his Air Force career with basic training at Lackland AFB. His first base stationing was at McClellan AFB, Calif. He also served at F. E. Warren AFB, Cheyenne, WY, Dyess AFB, Abilene, TX, K. I. Sawyer AFB, Marquette, MI, and Carlswell AFB, Fort Worth, TX. Overseas tours included Thailand, Vietnam, Guam, Korea, Lakenheath AFB, England, and Incerlik AFB, Turkey where he retired from after 21 years of service to his country.
He was awarded with the Air Medal, Air Force Commendation Medal with two oak leaf clusters, Air Force Achievement Medal, Air Force Good Conduct Medal with four oak leaf clusters, Armed Forces Expeditionary Medal, NCO Professional Military Educa-tion Graduate Ribbon with two oak leaf clusters, Air Force Longevity Service Award Ribbon with four oak leaf clusters, National Defense Service Medal, Air Force Overseas Short Tour Ribbon with one oak leaf cluster, Air Force Overseas Long Tour Ribbon, Air Force Training Ribbon Republic of Vietnam Gallantry Cross with palm, Republic of Vietnam Campaign Medal, Air Force Outstanding Unit Award with two oak leaf clusters, Senior Air Craft Munitions and Maintenance Badge.
Ernest married Margaret M. Buxkamper on 25 Jan 1969 here in Columbus. To this union a daughter, Michelle Marie and a son, Heath Bartley were born. Because of the Air Force life many miles and many places were seen by the four of us.
After the retirement from the Air Force, Ernest enjoyed life in the "North Country." He was able to enjoy years of salmon fishing in the cold weather of Marquette, MI along with his love of deer hunting. For 13 years life was full of his sporting favorites and the beginning of his love for wood crafting. In 1997 the family moved to Appleton, Wisc. to be near the grandchildren. In 2002, after 33 years of being away from Columbus, he brought his wife and himself "home."
Ernest was a member of St. Anthony Catholic Church and Knights of Columbus Council # 2971 of Columbus. He is survived by his wife, Margaret Buxkamper Besch of Alleyton, TX; his mother, Louise Besch of Alleyton; daughter, Michelle "Shelly" Bowden and husband Dean of Alleyton; son, Heath Besch of Madison, Wisconsin; sister, Karen Havel and husband Daniel of Katy, TX; brothers, Charles Besch and wife Brenda of Eagle Lake, TX and Leonard Besch of Wharton, TX; and five grandchildren, Bobbi Jo Lea Bowden, Tanner Kyle Bowden, Scott Michael Payne, Dustin John Bowden and Larissa Marie Kushawra. Preceding him in death is his father, Ernest M. Besch.
Funeral services were at 1 PM Sunday June 4, 2006 at St. Anthony Catholic Church in Columbus, TX with Father Dan Kahlich officiating. Parish prayer service and Knights of Columbus rosary was Saturday at Henneke Funeral Home in Columbus. Burial in St. Anthony Catholic Cemetery with full United States Air Force military honors. Pallbearers were US Air Force Military.
Honorary pallbearers were Franklin Addicks, Donald Hayek, Albert Pete Foster, Russell Buxkamper, Leland Moeller, Cyril LaGroue, Pete Besch, Brandon Besch and Pat Johnson.
Colorado County Citizen, June 7, 2006
Courtesy of The Citizen
Besch, Harmon
Harmon Besch, 82, Dies in Cleveland
ROCK ISLAND— Graveside services were conducted at the Cheetham cemetery Oct 26 at 4:30 p.m. for Harmon Besch, 82, former Rock Island citizen who died Oct. 24 in a nursing home in Cleveland, Tex.
Mr. Besch was born in Colorado county and spent his entire life here until after the death of his wife about 5 years ago.
He is survived by an adopted son, Alfred Besch of Winnie, one brother of Glidden and 5 grandchildren, including Paul Eastland of Rock Island.
Colorado County Citizen, November 3, 1960, page 10
Besch, Howard A.
Besch Funeral Services
Funeral Services for Howard A. Besch of Glidden were held Monday, January 18, 1993 at 2 p.m. from Henneke Funeral Home in Columbus with Rev. Jack Lowery officiating.
Burial was in Odd Fellows Rest Cemetery in Columbus.
Mr. Besch passed away January 15 in the Columbus Community Hospital. He was 75 years of age.
Born in Altair July 6, 1917, he was the son of Willie and Alma (Schultz) Besch. He married Eula Rieger January 13, 1940 and was a retired railroad conductor for Southern
Pacific Railroad. A member of St. Paul's Lutheran Church in Columbus, he was also a member of the United Transportation Union and the Texas Sportsman Association.
Survivors include his wife, Eula Rieger Besch of Glidden; mother. Alma Lipperdt of Columbus; daughter, Rebecca Mayo of Glidden; son, Franklin (Pete) Besch of Glidden; daughter-in-law, Sharon Kleinman Besch of Weimar; step sister. Mrs. Harold (Birdie) Hohlt of Columbus; five grandchildren and four great grandchildren
He was preceded in death by his father, Willie; son, Howard W. (Shorty): brother, Ernest; and stepbrothers. Herbert and Lester Lipperdt.
Pallbearers were Charles Herchak, David Lowrey, Warren Wilburn, Bill Smith, Pet Crawford, James Booker. Paul Hattermann, Dr Tom Hancher, James K. Besch, John Brzovskis. Honorary pallbearers were Floyd Green. B. J. Ballard. Fred Buchring, "Bubba" Holland, Fred Wallace, Charles Yearwood, O. C. Taylor, Leonard Rutledge, Don Helms, Jimmy Pitman, Joe Dungen, Clyde Williamson, Doug Hastedt, Gene Commander, Victor Stavinoha, 'Smokey" Stoever, J. I. Knox., Malone Stokes, H. E. Dipprey, T. D. Elliott, Walter Knezek, Clyde Clark, H. F. W. Mueller, Bill McGill, J. D. Miles, Leslie Tilley, Cecil Hickey, Walter Sylvester, Max Brenner, P. I. Harlan, Tommy Loftin.
New Ulm Enterprise, January 21, 1993, page 2
Besch, Howard William "Shorty"
Besch
Memorial services of Howard W. "Shorty" Besch, 47, of Rt. 3 Weimar, a truck driver, were held Tuesday, May 19, at the First Baptist Church in Weimar with the Rev. Jerry Adkins officiating.
Besch was killed in an auto-truck accident on May 16 three miles south of Columbus on Hwy. 71.
Born in Columbus Nov. 10, 1944, he was the son of Howard Alec and Eula Ruth (Rieger) Besch. He was united in marriage with Diane Kleimann[sic] on Jan. 16, 1965. He was employed by Scurlock Permian Corp.
Surviving are his wife, Sharon Besch of Weimar; his parents, Howard and Eula Besch of Glidden; grandmother, Alma Lipperdt of Columbus; daughter, Sonya Besch of Houston; three sons, Bruce Besch of Glidden, Mark Besch of Rock Island and Ben Besch of Weimar; one sister, Rebecca Mayo of Glidden; one brother, F. C. "Pete" Besch of Houston, four grandchildren, Coy Ricks and Jessy, Chloe and Colton Besch; and a number of nieces and nephews. [Cremated]
Fayette County Record, May 26, 1992
Besch, Madlyn Mae (Wallace)
Mrs. Edgar Besch Succumbs; Last Rites Held Tuesday
Funeral services were held Tuesday afternoon at Columbus Funeral Home for Mrs. Edgar Besch, 49, of Glidden, who died at Columbus hospital Sunday evening after a year's brave struggle against cancer.
Rev. Jon Ryan of Waco officiated and burial was in Odd Fellows Rest cemetery.
She was born in Glidden May 10, 1911, a daughter of K. L. and Ida Mae Ramsey Wallace. Her mother died during the influenza epidemic about 1918.
She was married Feb. 29, 1936, in Galveston to Edgar Besch, who survives. Other survivors are a daughter, Mrs. Raymond Brasher, a grandson, James Ray Brasher, and a son, James Keit (Butch), all of Glidden, also 2 brothers, Jimmy Wallace of Glidden, and Carey Wallace of Memphis, Ark., a half- brother, Fred Wallace of Columbus, 2 half-sisters, Mrs. Warren Albrecht of La Grange and Mrs. Alfred Dietzel of San Antonio, and her step-mother, Mrs. K. L. Wallace of Columbus.
She was a member of the Glidden Baptist Church.
Pallbearers were Clifford Lykke and Willis Obenhaus of Houston, Jake Obenhaus of San Marcos, Stanley Novak of Glidden, Ernest Besch of Alleyton and Delmar Fehrenkamp of Columbus.
Colorado County Citizen, August 11, 1960.
From the files of Dorothy Albrecht. Contact Rox Ann Johnson.
Besch, Willie Glass
Glidden Man Killed In Fall From Truck
(By Marie Adams)
Our little town was saddened Saturday by the death of Mr. Willie Besch, who was accidently killed as he was coming home from work.
The highway maintenance force was returning from near Garwood on Highway No. 71, and Mr. Besch was sitting on the back of the truck. He essayed to move up beside another employee on the truck, and got up and picked up a water keg that was in his way. Before he could move the keg and sit down the truck gave a lurch and he fell to the ground, alighting on his head and breaking his neck. He died in a few minutes.
Funeral services were held at the Lutheran Church in Columbus Monday morning at 10:00, Rev. Flachmeier officiating and the remains buried in Odd Fellows Rest.
Pallbearers were members of the highway maintenance gang with whom he had worked.
Mr. Willie Besch was born , Aug. 29th, 1895, he was married to Miss Alma Shultz, Sept. 3rd., 1912, and came to Glidden in 1924.
Mr. Besch was a sincere character, prominent in church work, a fond and devoted father and husband, and was held in highest respect by all.
He is survived by the sorrowing wife, two sons, Howard and Ernest, and a number of relatives to whom the sympathy of the entire community is extended.
Colorado County Citizen November 8, 1934