ALBRECHT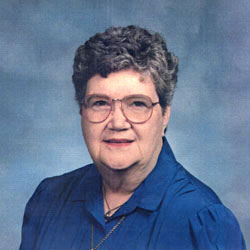 Dorothy Mae Wallace Albrecht, 79, passed away early Saturday morning, Jan. 31, 2009 at St. David's Hospital in Austin.
She was born Dec. 31, 1929 in Columbus. Dorothy was the daughter of Jimmie Lettie Taylor and Keity L. Wallace. Immediately after graduating from Columbus High School in 1946, at age 16, she was employed by the Colorado County Judge as his secretary, a position she held until she married Warren Albrecht on May 17, 1953 in Columbus.
During their life together, Dorothy was a homemaker and then worked as a bookkeeper until she returned to college after her children were in school. Upon graduation from Blinn College, she acquired an emergency teaching certificate and began teaching at Hermes Elementary School in La Grange. She continued her studies at Southwest Texas State University where she earned a Bachelor's degree and went on to earn a Master's degree from Kansas State University. Dorothy taught math in La Grange Junior High and High School, retiring in 1996. She became an avid fan of girls' athletics and served as scorekeeper for the Lady Leopards basketball and softball teams even after she retired.
Dorothy's interests were extensive and eclectic. Dorothy and Warren once owned and operated Wayside Manor Antiques in Willow Springs and besides antiques she was an avid collector of chickens and dolls. She had travelled through Europe and Australia and visited all but two of the United States. Her interest in genealogy led her on many journeys tracing the steps of her ancestors through history.
Dorothy had a special interest in cemetery preservation and was the long-time president of the Weimar Cemetery Association. She also served on the boards of the La Grange Ladies Cemetery Association, the Pagel Cemetery Association and the Clear Creek Cemetery Association. She was currently spending many hours as the coordinator of the Colorado County TXGenWeb Project and had been awarded the 2006 County of the Year Award for her work on that website which included recording every known burial in the county, both marked and unmarked. She was one of the catalysts for the Live Oaks and Dead Folks cemetery tours in Columbus and the Dorothy Albrecht Award for those with five years participation is given in her honor.
Throughout her lifetime, Dorothy was a community leader and her involvement in various organizations was extensive. After retirement she served as the Custodian General of the Daughters of the Republic of Texas, directing their office and museum in Austin for two years. In 2000 the State of Texas proclaimed her a Yellow Rose of Texas for her efforts in preserving state history. Dorothy was the founding President of the Monument Hill Chapter of the Daughters of the Republic of Texas and District VIII DRT Representative. She was one of three founders of the Guy Smith-James McMillan Chapter of the Daughters of the American Revolution, which she also served as regent. She served as President of the Nesbitt Memorial Library Board, President of the La Grange PTA, District President of the Texas State Teacher's Association and Worthy Matron of both the Columbus and La Grange Eastern Star chapters. She had served as an election judge, and among other organizations, she was a lifetime member of the Weimar Heritage Society Museum and a member of the Shropshire-Upton Chapter of the United Daughters of the Confederacy. She served as historian for the Taylor-McMillan Family Reunion and was currently a member of both the Fayette and Colorado County Historical Commissions.
Dorothy was a member of the First United Methodist Church in Weimar where she had served on the church council. She had also served as a board member of the Travis Street United Methodist Church in La Grange.
Besides her parents, Dorothy's husband, Warren, her sister, Sadie Dietzel, son-in-law, Jerold (Ron) Johnson, half-sister, Madlyn Besch, and half-brothers, Charles B., Carey L. and James K. Wallace, all preceded her in death.
Dorothy is survived by her children Rox Ann Johnson and Laurie Albrecht of Austin; Wallace Albrecht and wife Jill of Franklin, Tenn.; and her beloved grandchildren, Neal and Wyatt Johnson of Austin and Claire and Margaret Albrecht of Franklin; her brother, Fred L. Wallace and half sister-in-law, Lois Wallace, both of Columbus.
There will be a private burial service in the La Grange City Cemetery. A memorial service will be Thursday, Feb. 5 at 2 p.m. at the First United Methodist Church in Weimar. A reception in the church's fellowship hall will immediately follow.
Dorothy's family suggests that memorials be made to the Nesbitt Memorial Library Foundation, 529 Washington, Columbus, TX 78934.
Colorado County Citizen, Feb 2009