Do you have old family pictures or information you would like to share?
A few weeks ago a family reunion of Whittingtons and relatives was held near Weimar. There were some fifty-four or fifty -five persons present, all related to one another, and being from several different portions of the state. F. S. Wilson, the boss photographer, was on hand and succeeded in taking a splendid likeness of the group.
Weimar Mercury, August 22, 1891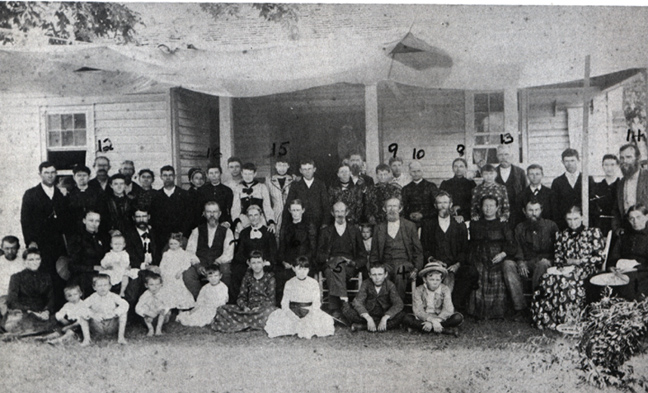 I don't know all the people shown in this picture, but I will identify the ones I do know.
Starting on the left, on the first row:
I don't know who the man and woman seated on the ground are. The next family, seated on chairs is James Wyatt Whittington (son of J. C. and Mary Whittington) and his wife, Georgia Perry with their children. The two little girls are Kitty (Katherine) Whittington (standing) and Louie (Louise) Whittington. Two of the three little boys are Calvin Perry Whittington and William Turner Whittington.
The man in shirtsleeves and vest is James Calvin Whittington, and next to him is his wife, Mary Jordan Brooks Whittington. They hosted the event.
The woman next to Mary Whittington is Sarah Brooks Shelburne, then Wyatt Marion Brooks, Robert Wright Brooks, Allen Turner Brooks and his wife Helena Luco Brooks. The woman on the far right is Sarah Shoemake Brooks, widow of John Clark Brooks, and also niece of J. C. Whittington.
The row in the rear, standing:
Number 12, third person from the left, with the mustache, is Gadie Whittington, son of James and Mary Whittington. Number 16, the woman standing behind J. C. Whittington, is his daughter, Julia Ann Frances Whittington. She married Robert Barclay Hollingsworth. Number 15 is Suzie Gates Pommier. Number 9 is Rophila Elizabeth English Wade. She was 22 when this picture was taken. Next to her, Number 10 is Nancy Whittington Rees, sister of James Calvin Whittington. Number 9 is Sarah Rees Houchins, Nancy's daughter, and Number 13 is George Washington Houchins, Sarah's husband. Number 14 is Billy Beck.
Notice the awning extending from the house and the washstand area on the right side of the porch. I noticed the clothing, too. Imagine wearing those clothes on a Texas July or August day! I had always supposed the reunion was in the fall or early spring, because of the clothes.
Deborah