Alexander
LYMAN WHITING ALEXANDER
Pictured: Lyman & Jane cir 1870, Columbus, TX
Lyman W. Alexander, son of Amos and Hannah Schmidt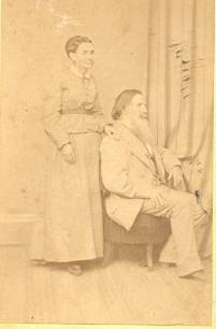 Alexander, first came to Texas in 1828 with his father and selected a tract of land near Columbus, Colorado County. From a letter in the General Land Office of Texas, Amos wrote to S. F. Austin, Empresario, " I am desirous of being admitted as a colonist in your contract of July 1828."

In 1834, Lyman returned to Texas from Bradford County, Pennsylvania with his parents, brother Amos, and two sisters. Two married sisters and an older brother were left behind in Pennsylvania. They sailed the Atlantic to Galveston Island, then traveled over land to Colorado County. There they occupied a farm for a short time before moving to Mina (Bastrop). There they built a store and residence out of hand-sawn timber. This store was located on the El Camino Real.

In 1835, Amos Alexander and his son Amos, Jr. lost their lives while on a trip to secure supplies for their store. Many years later in an undated letter, E. H. Alexander, son of Lyman, gave the following account to F. H. Schultz, owner of the land where the event occurred at the time the letter was written. "On 1 June 1835, Amos Alexander and his fifteen year-old son, Amos Jr., along with a family named Blackie, were returning from Columbia on the Brazos where they had purchased merchandise for the store. Nightfall was nearing and the men of one wagon decided to spend the night. However, Amos and his son felt that they must press on. When they reached the Wilbarger Trace, near the present town of Ledbetter, the Alexanders were attacked by Indians who killed Amos and mortally wounded Amos Jr. Young Alexander, though shot through the body, turned and ran back screaming, "Indians! Indians!" When he met the Blackies, the younger Blackie got up behind him to hold him on his horse, and they both started for Moore's Fort where La Grange is now located. After going about a mile, the wounded boy begged Blackie to lay him down and let him die. Blackie took Amos Jr. off under a tree and laid him down, crossed his hands on his breast and covered him with leaves and moss."
The survivors of the Alexander train went on to Moore's Fort and informed Colonel John H. Moore of the murders. He and his entire company proceeded at once to the spot where young Alexander died. They buried him there. The older man's grave was dug near a post-oak tree about fifty yards from the creek. Colonel Moore followed the Indians up into the hills, but failed to come up with them. A few yards away from the creek, now Alexander Branch, stands a simple slab of granite bearing the words: "Amos Alexander and son killed by the Indians here, 1835". E. H. Alexander erected the monument in accordance with the wishes of his father, Lyman Alexander.

One of the Texas patriots in the war of independence in 1835-1836, Lyman W. Alexander left from Bastrop in Captain Jesse Billingsley's Company, participated in the fights at Mission Concepcion near San Antonio under James Fannin and Jim Bowie, the Grass Fight, and other operations around San Antonio. In 1836, his company was part of Houston's Army. During the famous Runaway Scrape, he was granted the privilege of leaving the army to provide protection for his mother, who was one of the refugees. When he returned to his command, the Battle of San Jacinto had just been won. During this war Lyman and his mother lost all of their possessions in Bastrop, so they returned to Colorado County.

At Columbus, Texas on 30 December 1840, Lyman married Jane Gray Cummins, daughter of Robert Gray Cummins and Isabella McKnight. The Cummins came to Texas from Rutherford County, Tennessee in 1835. Lyman and Jane had ten children: Oscar William born 1843, Edwin Horace born 1845, Amos Robert born 1848, Mary Ada born 1851, Minerva Jane born 1852, Elizabeth Forshay born 1855, Isabella Josephine born 1656, Joseph Darwin born 1859, Lyman Terry born 1864, and Charles Watts born 1866.


After Texas was admitted to the Union, Lyman joined the army of the U. S. in the war with Mexico and fought at Matamoras and some engagements leading up to the capture of Mexico City. He served as 3rd Sergeant from 7 June 1846 to 2 October 1846.

On May 16, 1853 Lyman was paid to move the old courthouse in Columbus off the center of the courthouse square. In 1854, Lyman and J. B. Hogan started the first stagecoach service from Houston through Richmond and Wharton up the Colorado River through Egypt and Columbus to La Grange.

Trading in land and stock, receiving land grants for surveying government lands and for service in the army, left Lyman with extensive land interests in Colorado, Wharton and Lampasas Counties, Northern Texas and Greer County, Oklahoma. To better manage his interests, he moved with his family to a horse ranch near Gainesville. While participating in a veterans' parade, he suffered a heart attack and died 22 May 1875. Titles to many tracts of land were lost when the courthouse burned in Montague County. After his death, Jane and the youngest son, Charles, rode the train back to Columbus in Colorado County. The other two sons, Joseph, 16, and Terry, 11, drove a team of horses hitched to a wagon loaded with all their possessions across Texas from Gainesville to Columbus. It took the boys two weeks to make the trip. This move was made to be near the older children living in Colorado County.

By 1890, all of Lyman's children had moved from Colorado County. Oscar moved to Collingsworth County, Edwin to Llano County, Joseph to Houston, Lyman Terry to Collingsworth County, Charles to Oklahoma City, Minerva Jane to Caldwell County, Mary Ada to Dallas, Amos Robert died as a young man in Fayette County, Elizabeth and Isabella died in childhood. Jane Gray died in Houston, where she was living with her son, Joseph. The following is her obituary that appeared in the Houston Chronicle on Thursday, April 3, 1902:
LIVED UNDER THREE FLAGS
Mrs. Jane G. (Cummins) Alexander, another of Texas' Pioneer Women, Passed Away
The death of Mrs. Jane G. Alexander occurred this morning at 9:30 at the residence of her son. Mr. Joseph D. Alexander, corner of Decatur and White streets. Mrs. Alexander had been confined to her bed for nine weeks, having sustained injuries in a fall from which she never recovered. Mrs. Alexander was the widow of the late Limon Alexander of Columbus, Texas. She was born in Tennessee October 4, 1824, and came to Texas in 1835 when Texas was governed by Mexico. She has lived in Texas under three flags – Mexico, the Republic of Texas, and the Stars and Stripes of the US. She has been a consistent member of the Methodist Episcopal Church (South) for twenty-six years. She leaves, besides a host of friends to mourn her loss, five sons and one daughter. The funeral will take place from the residence of her son. Mr. J.D. Alexander, corner of Decatur and White Streets at 3:30 p.m. tomorrow. Rev. H.C. Willis of Tabernacle Methodist Episcopal Church will conduct the services. Interment in Hollywood Cemetery.


Two of Lyman's sons served in the Civil War.
Submitted by Betty Leach
Sources: family records, deeds and probate records in Colorado County, records in the General Land Office of Texas, military records and files in the Texas room of the Nesbitt Memorial Library, Columbus, Colorado County, Texas.